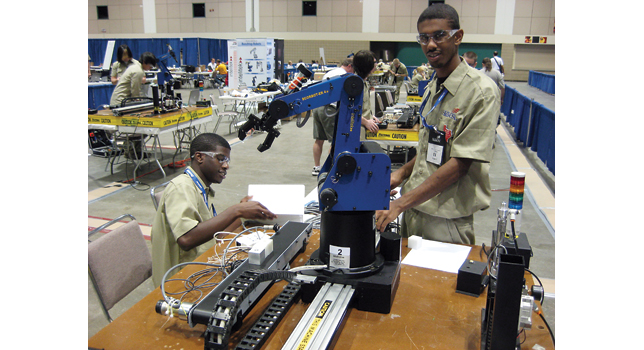 DESCRIPTION
SPECIFICATIONS
DESCRIPTION
Overview
Intelitek's Robotics and Automation Project is an engaging simulation of the industrial automated manufacturing process. Teams of two students layout and program a robotic production system as a solution to the project scenario.
By means of this SkillsUSA competition, students demonstrate the skills needed for employment in the field of automation technology. With emphasis on the team approach to problem solving in a work environment, the project enables students to display their skills in a valid, measurable format. The project-based learning approach enables many students to achieve outstanding results.
Each project involves all aspects of robotics, PLC, sensors, and electrical systems. Teams design a workcell layout with the SCORBOT-ER 4u robotic arm, develop documentation including the hardware layout drawing, robotic and PLC wiring connections and a flow chart of the proposed robotic program. Once the design is approved, they implement the program. Teams are then presented with a change order and repeat the design and build process, incorporating the specified modifications.
All wiring is completed using standard industrial practices for routing and termination, for real-world hands-on exposure to in-demand career skills!
Intelitek's well-designed projects encourage students to use imagination and inquiry to develop individual solutions. Projects enable students to work in groups in an immersive instructional experience with the common goal of developing solutions to relevant scenarios. Students develop communication, time-management and leadership skills while also learning core engineering principles.
Projects unveil student potential as students see how their ideas and decisions shape project outcomes. This level of student influence in the learning process helps make the connection between careers and the educational experience.
SPECIFICATIONS
All specifications subject to change without notice. All trademarks are property of their respective owners © Intelitek