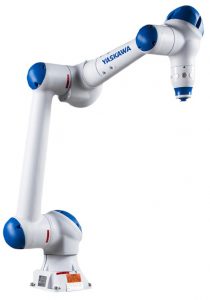 Description
Specifications
Specifications
Accessories
Data Sheet
Description
The HC10DT is a collaborative robot that can be used in technology education for students to learn the skills and capabilities of advanced robotics for industry.
Designed for a wide selection of applications, the 6-axis HC10DT human-collaborative robot is simple, safe and easy to program robotic arm with a payload of up to 10 kg (22 lbs). Operator's safety is assured by a Power and Force Limit technology that stops the robot in case of contact with an operator. The robot arm can be hand guided by an operator and robot positions and gripper operation can be registered via the "Easy Teaching Switch Box". These features offer time saving during the robot programming. In addition, robot programming is available through the easy-to-use touchscreen Smart Pendant with built-in Smart Frame technology.
Easily adaptable, the HC10DT can be integrated with existing automation infrastructure, and it meets established safety standards, enabling humans to safely work with robots. The HC10DT robot can operate without additional protective measures like a safety fence, depending on the risk assessment. This saves space and costs. Its installation area is very flexible and therefore able to operate at different workplaces.
The HC10DT is paired with the advanced YRC1000micro controller, the smallest robot controller in its class, that can be installed in either a vertical or horizontal position, as well as within a 19-inch rack. The YRC1000micro sports functions & performance optimized for transfer and assembly applications. The YRC1000micro offers easy connectivity to peripherals, high speed and high precision motion control, and advanced safety functions.
Specifications
Specifications
Accessories
Data Sheet
All specifications subject to change without notice. All trademarks are property of their respective owners © Intelitek