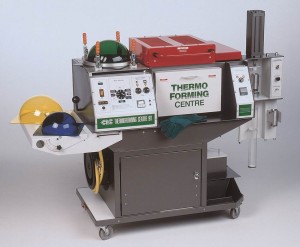 DESCRIPTION
OPERATIONAL AND SAFETY FEATURES
CURRICULUM
DESCRIPTION
Description
The Thermoforming Center is a mobile and compact training unit that emulates the kinds of plastic thermoforming performed in industrial environments.
Thermoforming Center is a compact training unit that enables a variety of plastic thermoforming processes, such as vacuum forming; free dome blowing; plastic welding; plastic dip coating; injection molding and extrusion.
Students grasp how low tooling costs, short tooling lead times and great versatility make plastic thermoforming suitable for a variety of applications, such as handling trays and bins, cases and storage units, packaging and electronics housings and display panels.
The Plastic Technology training system gives a unique opportunity to observe and study the
resulting effects when materials and processes are combined to create plastic parts.
OPERATIONAL AND SAFETY FEATURES
CURRICULUM
All specifications subject to change without notice. All trademarks are property of their respective owners © Intelitek