Our CIM systems are modular and flexible solutions for educating and training students in the principles and technologies of computer integrated manufacturing.
Computer Integrated Manufacturing (CIM) system has several key components: an automated storage and retrieval system (ASRS), at least one automated workstation such as CNC machining, a continuous-loop conveyor, a central management control station, a TCP/IP communication network, and OpenCIM software.
Additional workstations can be added at any time for executing a variety of automated tasks, such as laser engraving, hydraulic and pneumatic device operation, process control, and quality control inspection.
STATIONS
COMPONENTS
SOFTWARE
CURRICULUM
STATIONS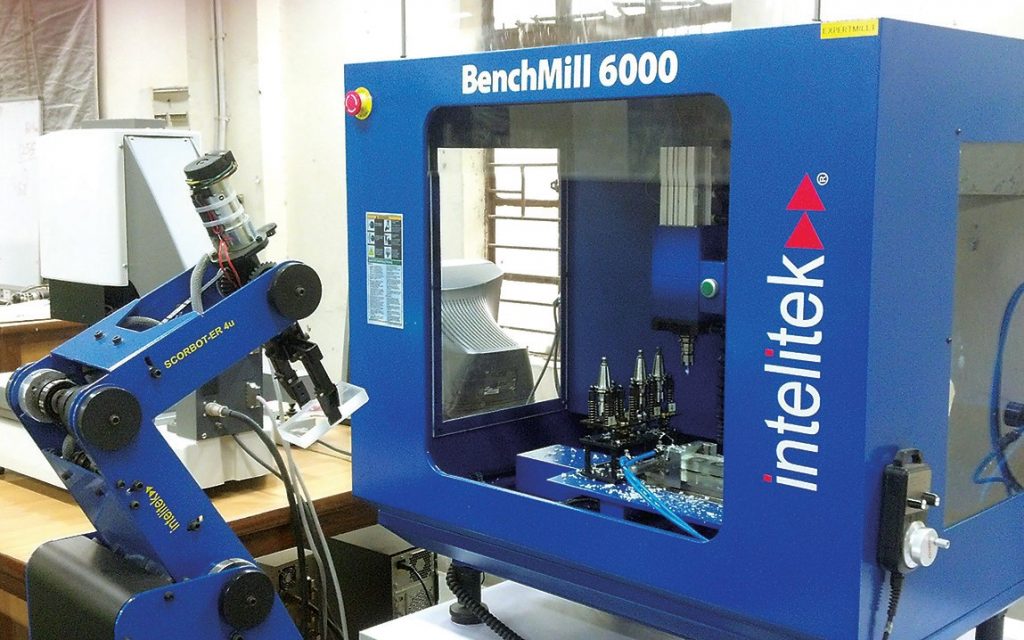 A Machine Tending Station can be used as a stand-alone workcell, or integrated within a CIM system. The robot tends the CNC machine and performs other part manipulation and/or assembly tasks.
When used in a CIM system, the robot loads and unloads parts to and from the CIM conveyor. The robot is mounted on a linear slidebase for mobility and larger work area.
Any of the MTS stations can be provided as a standalone FMS.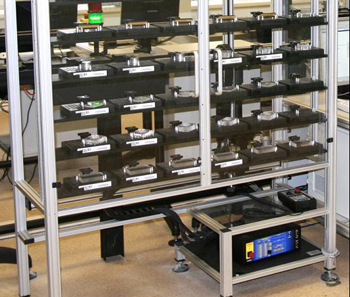 The ASRS storage station is a floor-mounted or a table top automated storage and retrieval (ASRS) system designed for educational use.
The system's dedicated Cartesian robot transfers parts between storage cells and conveyor pallets stopped at the ASRS station.
The robot is controlled by Controller-USB and by a dedicated ASRS software module in the OpenCIM software. An optional hand-held teach
pendant can also be used for direct control of the ASRS.
Assembly & Quality Control Station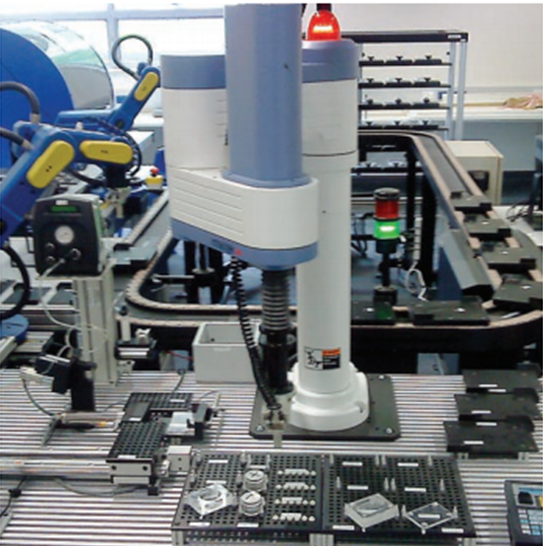 The assembly and QC station is equipped with a variety of assembly and quality control devices as well as with local storage devices.
This turnkey station gives students training and skills in assembly, quality control, robotic programming and automated manufacturing systems.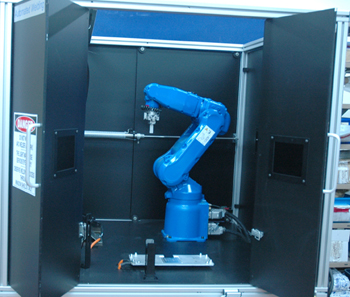 This turnkey automated welding station gives students training and skills in production welding methods, robotic programming and control.
Using RoboCell software students safely perform entire welding processes in 3D simulation before executing actual automated welding applications.
Students learn to overcome common welding problems, such as thermal deformation, by adjusting welding technique. Students also learn to improve weld quality by optimizing important welding parameters such as wire feed rate, robot speed, inert gas shield and voltage.
COMPONENTS
SOFTWARE
CURRICULUM