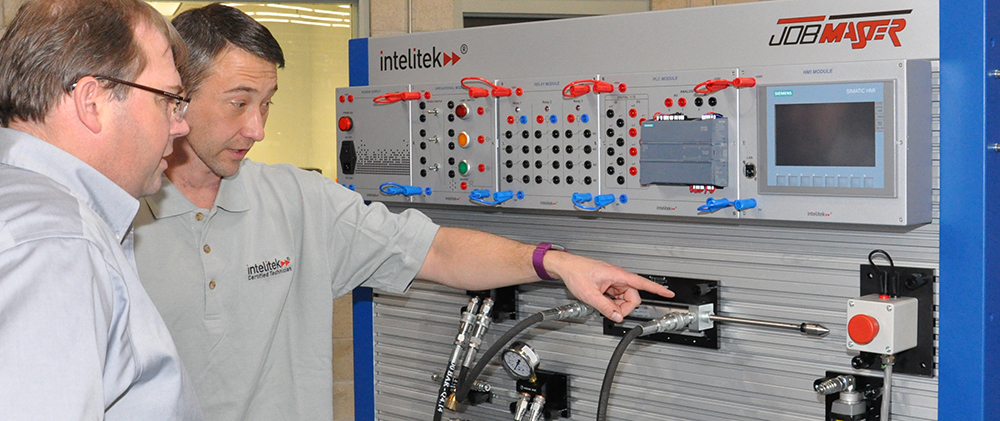 Intelitek's Programmable Logic Controller courseware gives students a solid grasp of industrial PLCs, ladder logic programming, inputs and output devices and electrical control. PLC hardware that is part of the JobMaster Training Station and is integrated with PLC software that lets students observe and understand the control logic behind the operation of industrial PLCs. The Programmable Logic Controllers courses emphasize PLC theory and basic programming. Students learn to program a PLC and simulate industrial applications that require electrical control.
PLCMotion
PLCMotion allows students to observe and understand the control logic behind the operation of industrial PLCs and gives students practical experience in the fundamentals of PLC programming and control.
PLCMotion includes an easy to use, human-machine interface (HMI) with graphics editor that allows students to create a complete production line or industrial process in simulation mode.
In addition to simulation of virtual applications, PLCMotion can control the operation of actual PLC applications. When connected to the JMTS training panel, the software provides on-line graphic tracking of its operation. (Requires PLC control unit.)
For more information click here
Hardware Training Kits
The training is supplied with a set of industrial grade components. Students can mount and configure components on the JMTS panel in order to create a variety of applications. Students can connect different components, change physical parameters and observe system responses. The unique combination of software and industrial equipment allows students to test and troubleshoot simulated circuits before hardware connections are made.
JMTS PLC1 Kit – set of sensor and activator components used for PLC training programs
PLC labs require the following JMTS Training Station Electronics Units
JMTS – Power Supply Module
JMTS – PLC Module
JMTS – HMI Module (for Siemens)