Intelitek Training Program for Siemens RobotExpert
Intelitek has partnered with Siemens PLM to provide an advanced training and certification program that addresses Industry 4.0 and offers higher education an approach to instruction for 21st century industrial methodology.
By integrating real industry software into Intelitek learning plans for manufacturing, students will be able to learn professional methodologies and enhanced operations of manufacturing operations.
After being a long-time partner of Siemens SCE (Siemens Cooperates with Education), partnering with Siemens PLM will offer an industry certification program for key components of Siemens PLM suite.
This collaboration and integration of another Siemens Software with Intelitek manufacturing solutions will enhance the depth of Intelitek Advanced Manufacturing programs.
Our e-learning courses are offered bundled together with Tecnomatix Manufacturing Academic Bundle (annual Site License) but our content can also be purchased separately for customers who already have the related software bundle.
Intelitek makes also use of specific products from its product line in the training content so that customers can combine the virtual cell with a real cell and create a digital twin.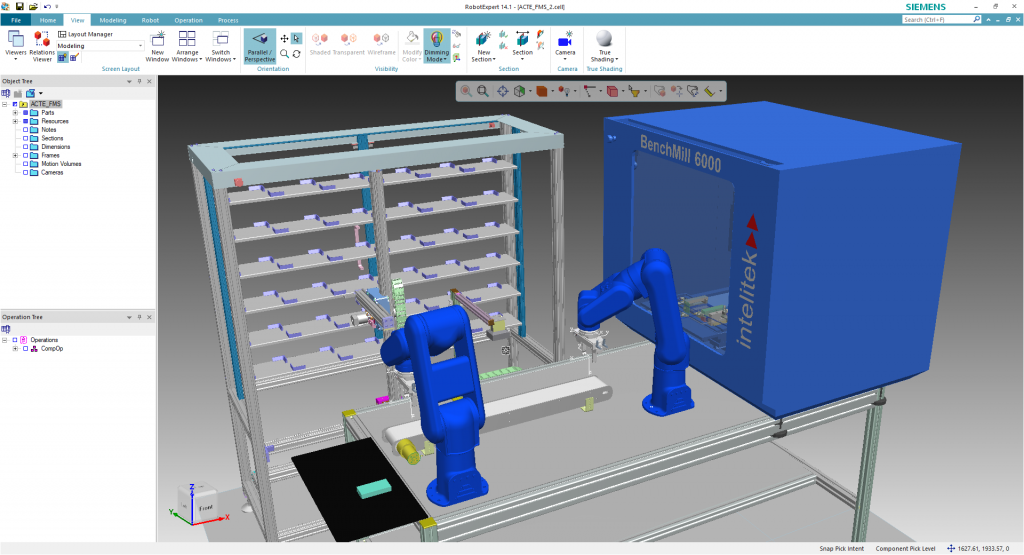 CURRICULUM
BUNDLES
BROCHURE
PICTURES
CERTIFICATION
CURRICULUM
Manufacturing Process With RobotExpert 1 – Estimated: 15 Hrs
Manufacturing Process With RobotExpert 2 – Estimated: 15 Hrs
BUNDLES
BROCHURE
PICTURES
CERTIFICATION