Industry 4.0 Logistics Automation Education Solution

SmartLogistics 4.0 is a complete multi-functional smart warehouse solution to train students on the principles and technologies of automated industrial logistics
What is the SmartLogistics 4.0
SmartLogistics 4.0 is a training environment for learners to delve into the technologies and skills typically found in smart warehouses and modern industrial logistics operations. The solution enables CTE classrooms to teach the industrial automation and industry applications used in industry worldwide.
The system is a fully functional logistics operation featuring industrial robotics, advanced communication, data analytics, and automation. The solution is centered around an industrial autonomous mobile robot (AMR) and integrates sensors, a programmable logic controller (PLC), Human Machine Interface (HMI), machine vision, and system management software found in real industrial processes.
The solution is accompanied by curriculum to qualify skilled workers to fill the thousands of jobs in industry.
The all-inclusive training platform includes industrial equipment, curriculum, exercises, labs and student evaluations. It aligns with Intelitek training for robotics, PLCs, machine vision, sensors, system control, integration, and the essential employability skills students need in modern industry.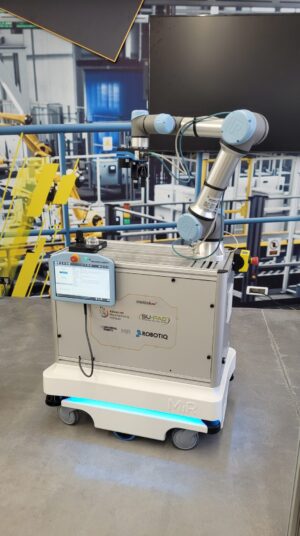 SmartLogistics 4.0 Documentation
All specifications subject to change without notice. All trademarks are property of their respective owners © Intelitek