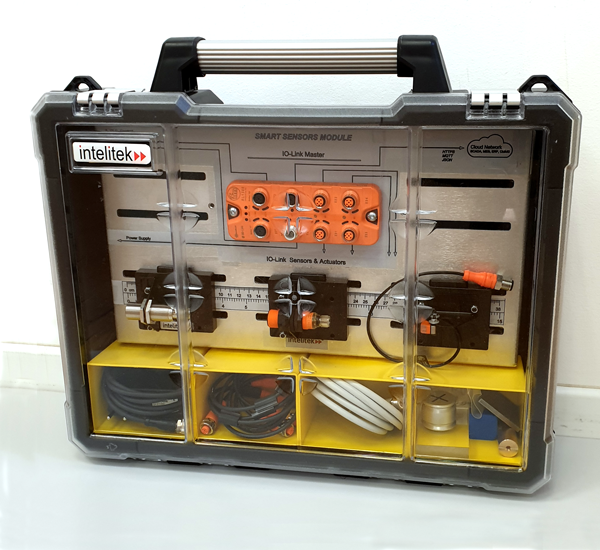 SMART SENSOR WITH IO-LINK HANDS-ON LAB FOR INDUSTRY 4.0 TRAINING PROGRAMS
Educating students on smart sensors and the communication systems related to sensors is essential for the Industry 4.0 workforce.
industry 4.0 uses real-time data collected  from smart sensors on the plant floor. The data collected from the equipment can be analyzed, formulated, and shared to all levels of plant operations, maintenance, and management. 
With IoT, wired and wireless networks, sensor data is accessible to people and to systems globally, enabling smart functionality.
Using IO-Link, actual sensor data can be collected and shared with control systems enabling predictive maintenance, advanced operations management, real-time flexible manufacturing and optimization planning.
SKILLS YOU WILL LEARN:
About sensors and smart sensors
What is IO-Link
What are the different types of 

protocol connections

How to install Smart Sensors in your lab
To use the parameter setting software
To read the data received from sensors
How to configure and customize the 

IoT Platform

How to perform Predictive Maintenance
INTELITEK SMART SENSOR TRAINING SOLUTION
The Smart Sensor training lab enables educators to provide hands on and theory training to students in advanced manufacturing or process management programs to fully understand the world of sensors and the communications that connect them.
The solution includes advanced smart sensor lab hardware, lab exercises and software tools to work with Smart Sensors.
Standalone Lab – the kit can be used as a standalone lab to augment advanced manufacturing programs.
Sensor Integration Kit – the smart sensors can be installed and integrated into the Intelitek Robotics Cart, flexible manufacturing (FMS), computer integrated manufacturing (CIM), JMTS, or mechanical maintenance trainers to upgrade them to Industry 4.0.
RECOMMENDED CURRICULUM
The Smart Sensor Lab includes exercises and drills to practice hands on skills with Sensors, IoT and Industry 4.0 communications. The curriculum below are recommended as prerequisite knowledge to expand the students theoretical knowledge:
Introduction to Industry 4.0
Intro. to IoT & Connectivity for I4.0
Advanced IoT & Connectivity for I4.0