Tech Learning | Creative Thinking | Career Skills
Intelitek is a world-leading developer, producer and supplier of technology training solutions. For over three decades, Intelitek have transformed educational processes across the globe with our comprehensive technology learning solutions.
Intelitek's innovative and award winning educational initiatives have helped students from middle schools, high schools to post-secondary institutions gain crucial career building skills that will ensure their future employability. Our programs have been taught in in over 50 countries, educating students in over 26,000 schools, labs and institutes, and teaching over 500 different training topics. We understand the changing needs of technology classrooms better than anyone in the world and can design flexible solutions that meet those needs.
Intelitek has always been guided by an academic vision that goes far beyond producing training solutions. Intelitek has provided comprehensive educational solutions in engineering, manufacturing, automation and other industrial technologies driven by our pedagogic vision to educate students to be career ready and with life-long learning skills. Investing in research and development to achieve this has been essential, and our innovative approach and dedicated service has been the driving force behind our continued success.
What We Do
We provide educational institutions with interactive technological learning environments. We transform classrooms to engage today's students for tomorrows challenges. Our solutions empower teachers to become mentors who provide students with the practical curriculum needed for in-demand careers while laying the foundations for lifelong learning. We do this by providing meaningful, measurable accomplishments in the classroom. Success to us means students gain the skills and competencies they need to become contributing members of their community.

Intelitek understands the changing needs of career and technology classrooms and designs flexible educational programs that meet those needs while being cost-effective. Together with our programs we offer the support and professional development curriculum to ensure the ongoing success of the solutions.
We help educational institutions deliver the competencies needed for in-demand careers, we equip the students with the skills, provide the teachers with the curriculum and empowerment, and ultimately the community with a skilled, contributing, creative thinking workforce.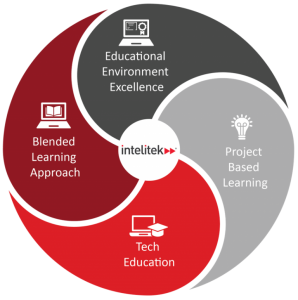 Whether building a program from the ground up or expanding your existing curriculum, Intelitek specializes in bringing sustainable, scalable solutions into educational and training programs for middle schools, high schools, universities and technical training centers. With our unique combination of e-learning curriculum simulation software and industry-based lab hardware, we help develop career and technology training programs that best fit the needs and budget of your program.
INTELITEK OFFERS COMPREHENSIVE SOLUTIONS IN THE FIELDS OF:
STEM
Robotics
Machining
Automation & Mechatronics
Manufacturing
Advanced Manufacturing
Industrial Maintenance
Process Control