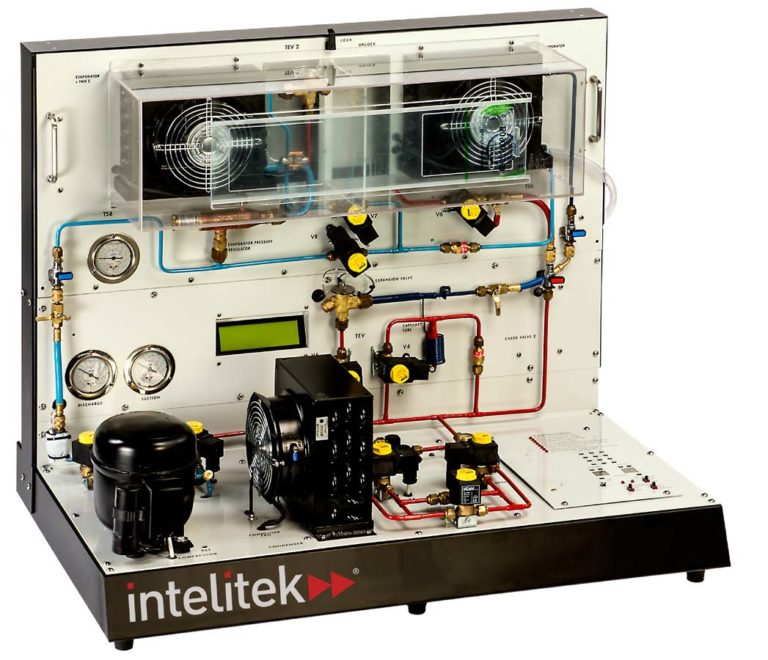 OVERVIEW
With the Industrial Refrigeration and Air Conditioning Trainer, Intelitek has developed a turnkey training system designed to expose students to the various systems and real components used in the refrigeration and air conditioning industry. The modular learning system allows students to train on both refrigeration and air conditioning applications by simply swapping the two interchangeable plug in panels on the base unit. The curriculum and classroom activities make the learning hands-on, practical, and more effective.
The custom designed practical learning exercises follow industrial engineering practices. Trainees develop a passion for engineering via project-based learning, as well as exposure to real-world environments.
Features of Advanced Refrigeration and Air Conditioning Systems:
Designed for practical, hands-on training
Modular Design – supports both refrigeration and air conditioning training via interchangeable panels
Comprehensive Curriculum and Experiments – Self-paced, including hands-on activities
Cost-Effective, Integrated Solution – full training package with hardware, software, and curriculum
Compact Desktop Unit – easy to setup and operate
Built-in Safety features to provide a safe classroom environment
CONFIGURATIONS
The Industrial Refrigeration and Air Conditioning Trainer is a desktop, modular training system designed to provide students with the fundamentals in basic and advanced refrigeration systems. The base platform accommodates removable plug-in panels to easily switch from refrigeration to air conditioning. The system includes the cooling components, temperature and pressure sensors, pressure gauges, valves and peripheral connections, as well as the control components including switches, push buttons, and an LCD display.
The trainer implements all of the required control functions while maintaining pressures and temperatures within the predefined safe operating conditions of the system. Temperature and pressure sensors are integrated in the system to show their actual values on the display.
The training system may be operated as a standalone system or also be connected to a PC via USB to utilize the S-COOL software to monitor and control the training system.
COURSE OUTLINE
Intelitek's comprehensive learning solution provides the student with both the fundamental and advanced training programs in basic and industrial refrigeration and air conditioning.
Course Outlines
Professional Cooling Systems Course Outline
Chapter 1: Basic Cooling and Refrigeration Systems
Introduction to Cooling and Refrigeration Systems
Pressure/Temperature Relation
Materials and Circuits of the Control System
Compressor Types
Evaporation and Condensing Techniques
Materials and Circuits of the Electrical System
Troubleshooting
Maintenance Methods and Equipment Required for Servicing
Chapter 2: Professional Cooling Systems
Introduction to Professional Cooling Systems
System's Operation and Stabilization Conditions
Parallel Connection
Serial Connection
Troubleshooting
Professional Air Conditioning Course Outline
Chapter 1: Basic Cooling and Air Conditioning Systems
Introduction to Cooling and Air Conditioning Systems
Pressure/Temperature Relation
Operational Principles and Materials
Compressor Types
Evaporation and Condensing Techniques
Materials and Circuits of the Electrical System
Troubleshooting
Maintenance Methods and Equipment Required for Servicing
Chapter 2: Professional Air Conditioning Systems
Introduction to Professional Air Conditioning Systems
Distribution
Troubleshooting
DATA SHEET
Datasheet