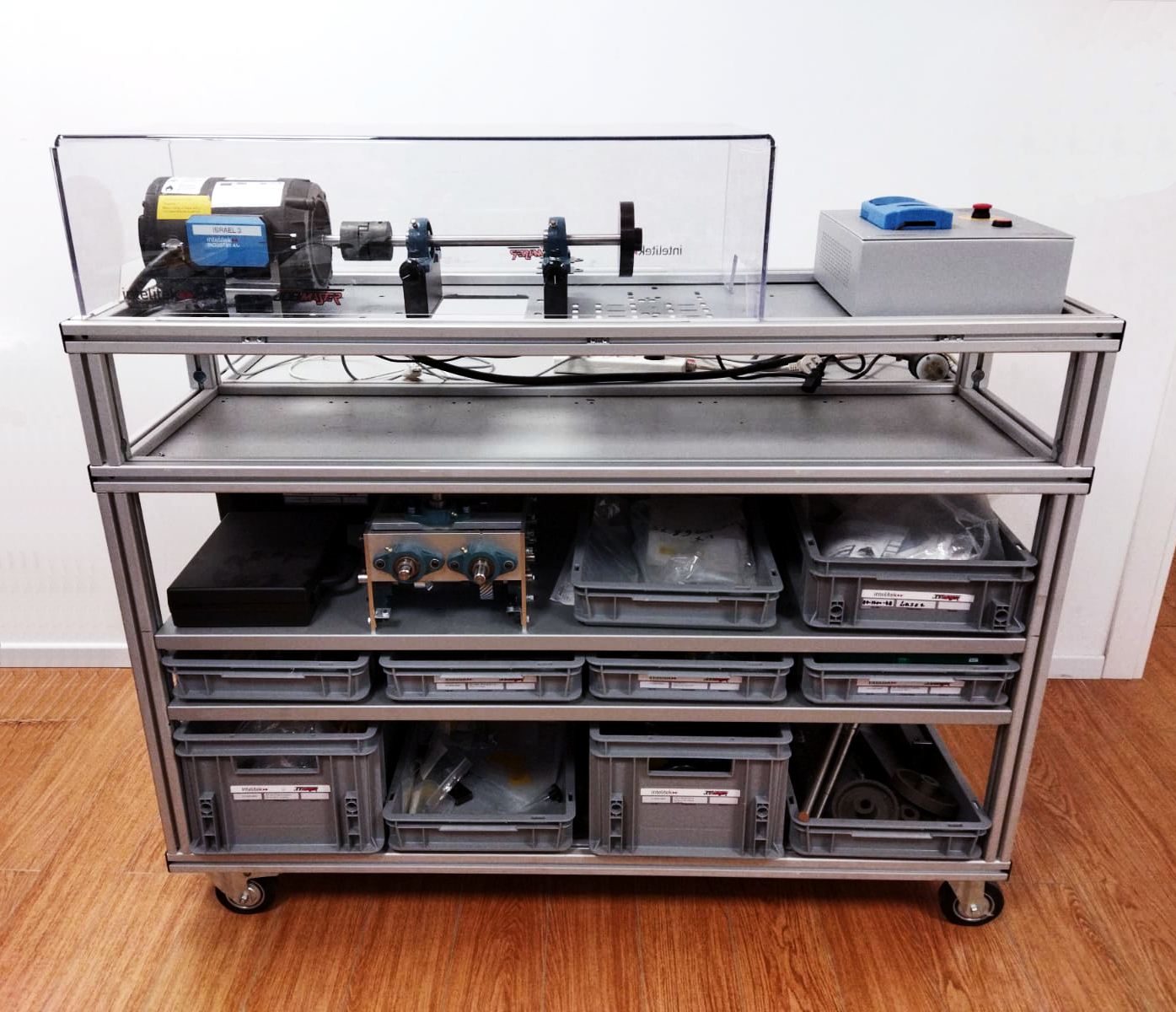 SMART CONDITION BASED MONITORING LAB FOR INDUSTRY 4.0
Predictive maintenance is one cornerstone of Advanced manufacturing and Industry 4.0. Using Smart sensors to obtain real-time, relevant information from all corners of the smart factory, artificial intelligence can sense and foresee failures, triggering maintenance before downtime occurs.
The Intelitek CBM (Condition Based Monitoring) Sensor Lab is a complete kit of hardware, software, learning materials and exercises to enable students to understand how sensors work and how to use them in real industrial processes for predictive maintenance.
SKILLS YOU WILL LEARN:
About different types of sensors and how they work
The role of smart sensors in Industry 4.0 ecosystems and the benefits of CBM sensors
To install, configure, calibrate, and monitor sensors

Setting up sensor communications and to read and analyze the data and graphs received from the Smart Sensor

The role of sensors in predictive maintenance

Identifying faults and resolving them

Setting up thresholds and automated alerts and alarms about anomalies in the system

Troubleshooting
INTELITEK SMART SENSOR TRAINING SOLUTION
The training lab is a complete solution that integrates theory, practical and system level learning experiences into the classroom. The solution includes:
A sensor package for hands on exercises
Student lab activities for hands on learning
Smart monitoring software for configuration and

monitoring machine status

A cloud application for learning remote monitoring and use of condition indicators
Fault insertion to create change from normal behavior and learn fault detection, trend analysis, fault correction and how to use data for predictive maintenance
Standalone Lab – the kit can be used as a standalone lab to augment advanced manufacturing programs.
Integrated with Mechanical Series – the CBM Kit is also an add-on kit for the Intelitek Mechanical System training bench and can be added to the mechanical bench as an additional training module
RECOMMENDED CURRICULUM
The CBM Lab includes exercises and drills to practice hands on skills with Sensors, IoT and Industry 4.0 communications. The curriculum below are recommended as prerequisite knowledge to expand the students theoretical knowledge:
Introduction to Industry 4.0
Intro. to IoT & Connectivity for I4.0
Advanced IoT & Connectivity for I4.0

The advanced multi-sensor CBM module is mounted on a motor and anomalies are introduced using the VFD control and the mechanical shaft and fly-wheel. The application provided enables monitoring of trends, alerts and triggers to be set up.