Machine vision will be a critical part of automation systems in Industry 4.0. As data analytics capabilities progress, the high volume of data accessible through vision equipment will be used to identify and flag defective products, understand their deficiencies and enable fast and effective intervention in the Industry 4.0 factory.
Intelitek Machine Vision and Quality Control courses teach the skills essential for success in CTE careers in industry.
With interactive e-learning curriculum featuring both quality lab hardware and simulated virtual labs, students learn to use precision measurement tools, perform inspections and collect data using the Cognex camera and In-Sight Explorer software. Students also learn how these concepts relate to statistical sampling, tolerance and quality control. Machine Vision and Quality Control courses area ideal for any engineering or automated manufacturing program, providing a thorough and engaging element of STEM education.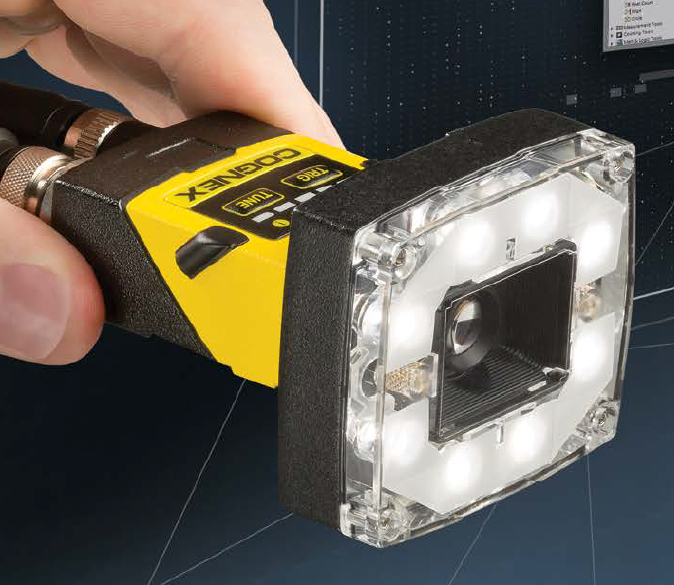 Machine Vision and Quality Control – Lab
In this course, students acquire skills in the complex functions required for image processing, image analysis and object identification. They gain experience that will enable them to combine a vision system with any manufacturing process for parts inspection and quality control as well as with robotic systems for vision-guided robotic applications. The course uses a Cognex Vision Sensor and Cognex In-Sight Explorer software. The curriculum provides instruction on the use and setup of the Cognex digital color camera and integration of the vision system into quality control and manufacturing processes.
MACHINE VISION LAB 1
Activity 1: Introduction to Vision Systems
Activity 2: How Cameras Work
Activity 3: (Lab) Getting to Know Your Device
Activity 4: Digitalization
Activity 5: (Lab) Introduction to In-Sight Explorer
Activity 6: Analytical Tools
Activity 7: Image Types
Activity 8: (Lab) EasyBuilder
Activity 9: Optics and Lighting
Activity 10: Lighting Techniques
Activity 11: (Lab) Image Setup, Lighting, and Calibration
Activity 12: Image Enhancements and Operations
Activity 13: Filters and Noise Elimination
Activity 14: Blobs
Activity 15: (Lab) Counting Tools
MACHINE VISION LAB 2
Activity 1: Types of Vision Systems
Activity 2: Vision Systems and Manufacturing
Activity 3: Patterns and Pattern Matching
Activity 4: The Color Tool
Activity 5: I/O and Communication
Activity 6: Deployment
Activity 7: Image Types
Activity 8: Setting Up an Emulator
Activity 9: Calibration
Activity 10: Vision Tools and the Emulator
Activity 11: Introduction to Spreadsheet Viewer
Activity 12: Spreadsheet Logic
Activity 13: Image Analysis with the Emulator
Activity 14: Image Enhancements with the Emulator
SPECIFICATIONS
Software
– In-Sight Explorer software and EasyBuilder
Hardware
– (1) Cognex In-Sight 2000-130C Camera w/mount
– (1) Machine Vision (Stand 1000mm)
– (1) 24v Power Supply
– (1) Camera Accessories (Cables)
– (1) Set of Experimental models for QC labs
– 24v Power Supply
Camera Specifications
– 1/3″ CMOS Imager: Color
– S-Mount/M12 Lenses: Manual focus 8mm
– Image Modes: 640 x 480 (standard), 640 x 480 (2x magnification), 800 x 600 (2x magnification)
– Lighting: Diffuse white LED ring light
– Maximum Acquisition Speed: 55 fps
– Relative Processing Speed: 2x
– Location Tools: Pattern, Edge, Circle
– Inspection Tools: Pattern, Pixel Count-Color, Brightness & Contrast, Edges
– Measurement & Counting Tools: Distance, Angle & Diameter; Patterns & Edges
– Networking & I/O Protocols – EtherNet/IP, PROFINET, SLMP, SLMP Scanner, Modbus TCP, TCP/IP, UDP, FTP, Telnet (Native Mode), RS-232
– Connectors: (1) Industrial M12 Ethernet, (1) M12 Power & I/O
– Inputs & Outputs: (1) Acquisition Trigger, (1) General purpose input, (4) General purpose outputs
– Dimensions – In-line configuration: 92 mm (3.61 in) x 60 mm (2.38 in) x 52 mm (2.05 in)
– Dimensions – Right-angle configuration: 61 mm (2.42 in) x 60 mm (2.38 in) x 52 mm (2.05 in)
– Weight: 200 g (7.05 oz)
– Material & Protection: Painted aluminum, IP64-rated housing
– Operating Power: 24 VDC ±10%, 48 W (2.0 A) maximum when the illumination is on
– Operating Temperature: 0°C to 40°C (32°F to 104°F)
BROCHURE
Click here to download a pdf brochure.
CERTIFICATION
Industry Certification
Intelitek has partnered with Cognex, the global leader in Machine Vision, to develop a machine vision and quality control training program to assist high schools, community colleges, and technical schools offer an industry recognized Machine Vision certification based on the Cognex In-Sight 2000 series vision sensors. The training program delivers skills-based training and blended learning programs to prepare students for in-demand professions in industry.
Machine Vision with Cognex Certification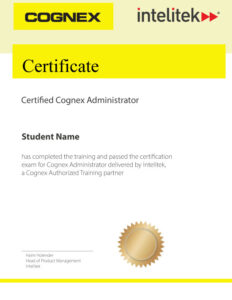 Intelitek has partnered with Cognex, a global leader in machine vision solutions to offer a Machine Vision Certification Program for education. The Intelitek training for Machine Vision and Quality Control educates students on the concepts of advanced machine vision and it's uses in industry. Using the Cognex Insight 2000 application and an appropriate vision sensor for the training the student can take the Cognex Administrator Certification exam. 
The training and certification prepare students to work in industry where advanced machine vision has become an integral part of all stages of manufacturing, production and process management.
This Cognex endorsed certification is highly revered in industry and can give a candidate an advantage when entering the job market.
Cognex Machine Vision Administrator Certification
Courseware: Student must complete the Machine Vision and Quality Control Lab #1 and Machine Vision and Quality Control Lab #2 curriculum (30 Hours) to prepare for this exam
Practical: Student must complete required training lab activities and submit teacher signed affidavit before they can take the exam
Who can get certified: Any student with appropriate knowledge and practical experience is eligible to take the certification exam. The program is designed for high school, community college or degree level students interested in careers in manufacturing and industry where Machine Vision is used.
Duration: Student should complete the training, the practical and the exam within a 12 month calendar period.