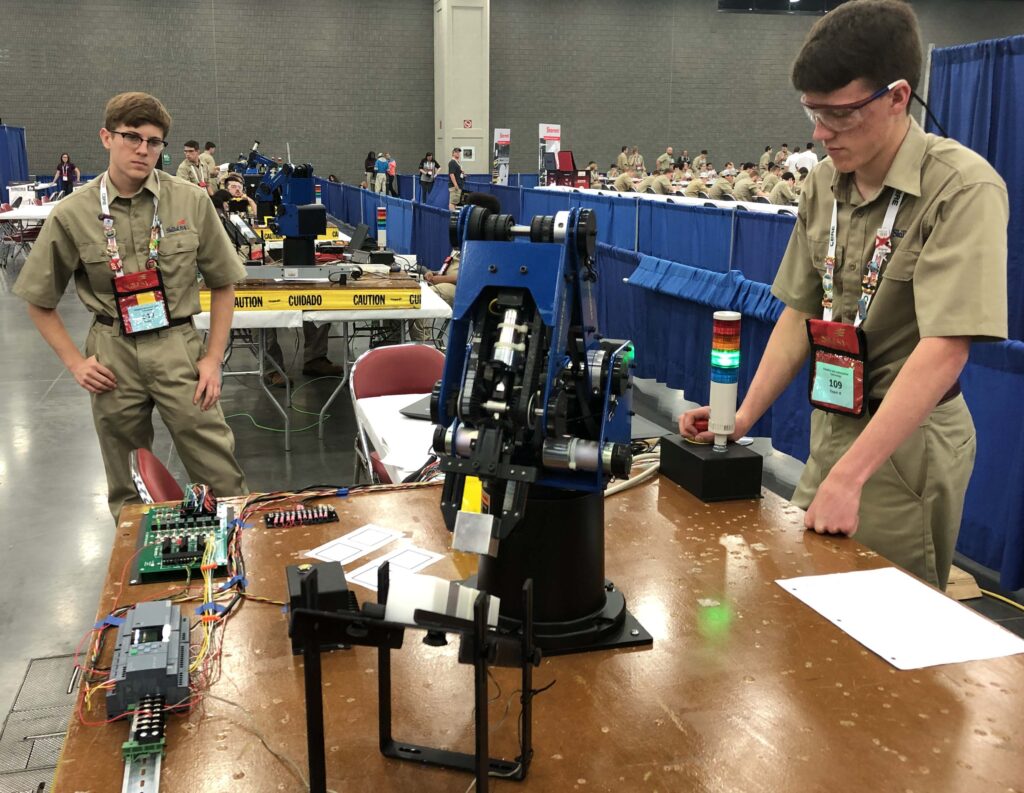 The Robotics and Automation Project is an engaging simulation of the industrial automated manufacturing process. Teams of two students layout and program a robotic production system as a solution to the project scenario.
At the SkillsUSA competition, students demonstrate the skills needed for employment in the field of automation technology, with emphasis on the team's approach to problem solving in a work environment. The project enables students to display their skills in a valid, measurable format. The project-based learning approach enables many students to achieve outstanding results.
Each project involves all aspects of robotics, PLC, sensors, and electrical systems. Teams design a workcell layout with the SCORBOT-ER 4u robotic arm, develop documentation including the hardware layout drawing, robotic and PLC wiring connections and a flow chart of the proposed robotic program. Once the design is approved, they implement the program. Teams are then presented with a change order and repeat the design and build process, incorporating the specified modifications.
All wiring is completed using standard industrial practices for routing and termination, for real-world hands-on exposure to in-demand career skills!
Competition Equipment
Gravity Parts Feeder
PLC Kit – Siemens LOGO! PLC with LOGO! Soft Comfort programming software, I/O expansion, and power supply
Proximity Sensor
Competition Interface
Power Supply Module
Sensor Box
Light Stack
Competition Blocks (Aluminum and Plastic)
Intelitek have provided training and equipment for robotics and automation programs for over 30 years. Contact Intelitek for information about our programs and how you can get your team better equipped to participate in RAT competitions.
Intelitek offers an all-inclusive robotics kit similar to the above. Contact Intelitek or an Intelitek Dealer for more information.