The JobMaster® Industrial Maintenance Training teaches the specialized skills required for today's industrial technicians. JobMaster provides a superior blended learning solution for mechatronics and industrial maintenance training by combining industrial-grade components with engaging e-learning content.
Quality Hardware
No other training system provides exposure to industry-standard practices like JobMaster, with hardware platforms consisting of industry-standard components.
From VFDs to solar-voltaic cells, all components are sourced from the same suppliers used by industry.
All wiring includes frame-mounted industry-standard conduit and is terminated with crimped ferrules, like those found in industry. This allows students to learn the wiring techniques and skills critically needed by industry.
Skill-based E-learning Content
JobMaster curriculum is skill-based, developed by industry experts from Fortune 1000 companies across a wide range of sectors.
Self-paced e-learning curriculum reinforces concepts by guiding students through skill-based activities using the hardware.
Skill-based training consists of individual exercises that reproduce essential tasks performed by maintenance technicians, equipment operators, and machine repairmen. Each skill has been analyzed and field-tested by qualified maintenance technicians to teach the specific skills needed in the industrial environment.
Self-paced interactive content is deployed through the robust learning management system (LMS). The LearnMate LMS provides everything needed for the ultimate blended learning experience:
SCORM-compliant interactive content
Anytime, anywhere accessibility
Student and class management
Grade tracking
Skill/competency reporting mapped to national academic skill standards
JOBMASTER MODULAR TRAINING
JobMaster's modular training system brings true versatility to your training program. The Flexponent™ system of interchangeable component panels allow the training station to be quickly configured for teaching a variety of electrical maintenance topics.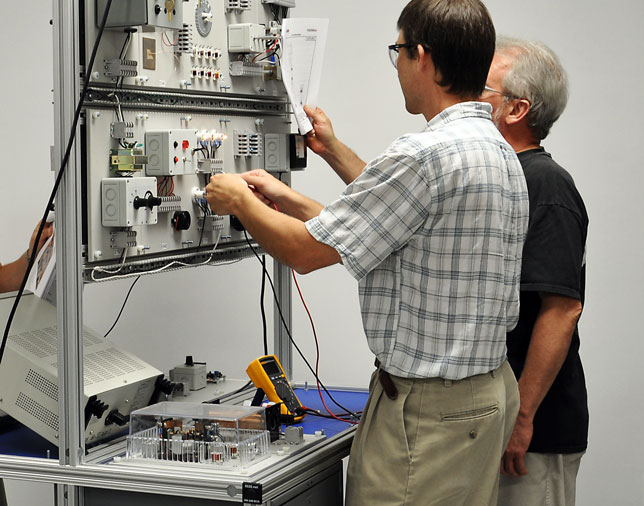 How to build a JobMaster's training system:
The JobMaster two-sided mobile learning station is the hardware foundation of the JobMaster Electrical Training courses. This sturdy anodized aluminum learning station provides the mounting points for the Flexponent panels provided with the JobMaster® courses.
Each learning station accommodates 30 Flexponent panels and four students.
Students can quickly and easily mount and remove panels to configure their work area for each individual skill. Lockable swiveling casters and the 32″ (81 cm) depth enables easy mobility through standard facility doorways.
Simply choose the number of Learning Stations necessary for the scope and size of your program!
Once you have equipped your program with the appropriate learning stations to accommodate your students, simply choose the courses that cover the skills and concepts needed in your training program.
In addition to content, each JobMaster series of courses includes all the necessary FlexPonent panels for use on the learning station, along with any additional tools and hardware used in the skill-based activities, such as meters and scopes.
Panels are easily added and exchanged allowing the workspace to be re-configured as multiple students progress through the course. This flexible modular approach allows you to build a custom program for your needs.
An essential element of the JobMaster Training System, JobMaster Power Control (PC) panels serve three vital purposes:
Providing the necessary electrical connection from the learning station to your facility power.
Assuring a safe environment in the classroom.
Exposing trainees to the same environment they will encounter in industrial settings.
PC panels feature industrial-level safety controls, including the lockout/tagout point, emergency stop, and the on/off switch for all the learning station components. Each power control panel provides three forms of lockout: one for the instructor, one for the student, one for emergency stop conditions.
Power controllers are available for both 120V single-phase and 220V three-phase power supplies.