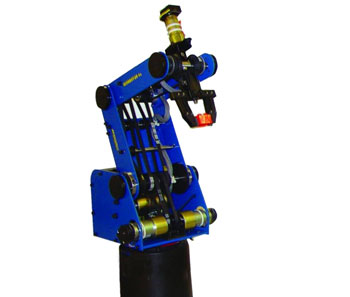 Description
Specifications
Accessories
Data Sheet
Description
The ScorBot ER-4U is a versatile and reliable system for industrial robotics training and education. The ScorBot ER-4U robot arm can be mounted on a tabletop, pedestal or linear slidebase. The robot's speed and repeatability make it highly suited for both stand-alone operations and integrated use in automated workcell applications such as robotic welding, machine vision, CNC machine tending and other FMS operations The robot is supported by
ScorBase robotics programming and control software
. Optional
RoboCell 3D graphic software
lets students design, create and control simulated industrial workcells, and provides dynamic simulation of the robot and workcell devices during position teaching and program execution. The robot is designed to enable observation of its working mechanical parts while ensuring a safe environment for students.
Standard features
Mechanical arm
USB communication cable
Software CD
Plastic dust covers
Documentation for all software and hardware components
Certified for CE safety compliance.
Example Applications
ER 4U with Machine Tending (Milling/Turning/Laser Engraver)
ER 4U with SkillsUSA materials handling package (RAT – Robotic Automation Technology)
ER 4U with ASRS (Automated Storage and Retrieval System)
ER 4U with machine vision system from Cognex for Quality Control
Specifications
Accessories
Data Sheet
All specifications subject to change without notice. All trademarks are property of their respective owners © Intelitek