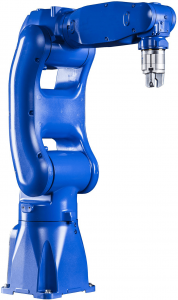 Description
Specifications
Accessories
Data Sheet
Description
The Motoman GP8 is an advanced material handling robot that offers high speeds, an 8 kg (17.64 lbs) payload, and 727 mm (28.62") reach. This robot is designed to provide easy set-up, operation, and maintenance with only a single cable needed to connect the manipulator and controller.
The GP8 offers superior performance in part applications such as assembly, dispensing, packaging, material handling, and machine tending. The GP8 has superior axes speeds, better reduction of acceleration/deceleration times for all robot positions than all robots in it's class. The compact and slim design of the GP8 has an expansive work envelope and a design to allow close proximity placement of robots. The robot arm has an easy to-
clean surface for use in harsh environments and an IP67 wash down rating. The lightweight, 32kg (71 lb) robot, supports a variety of mounting options including floor, ceiling, and wall.
The GP8 is paired with the advanced YRC1000-micro controller.
Standard features
Compact, high speed, powerful and economical.
8 kg / 17.6 lb payloads
Slim and easy-to-use structure
Slim robot body requires minimum installation space.
Impressive reach and horizontal reach enables robot to operate in wider work
areas.
Slim, straight, and symmetrical arm design minimizes interference with peripheral devices even in small spaces.
Easy set-up – Only one cable required.
Environmentally friendly – IP67 standard protection class
Free of corrosive gasses or liquids, or explosive gasses
Resists exposure to water, oil or dust
No excessive electrical noise (plasma)
Floor-, wall- or ceiling-mounted options.
Internally routed cables and hoses maximize system reliability
Applications
Machine Tending (Milling/Turning/Laser Engraver).
Assembly and/or Quality Control.
Parts Handling (Order Picking, Parts Transfer, Storage Applications)
Specifications
Accessories
Data Sheet
All specifications subject to change without notice. All trademarks are property of their respective owners © Intelitek