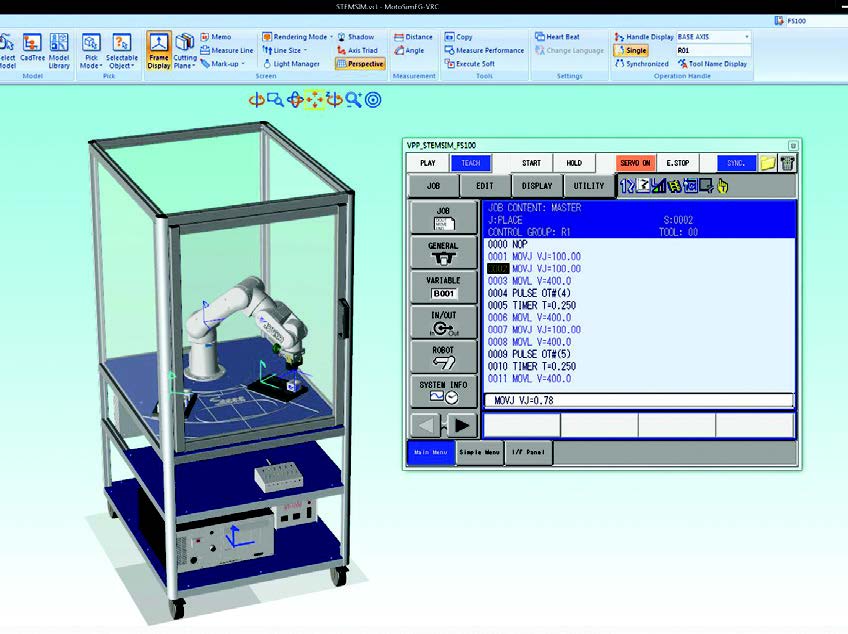 DESCRIPTION
FEATURES
APPLICATIONS
REQUIREMENTS
DATA SHEET
DESCRIPTION
MotoSim® EG-VRC (Motoman Simulator Enhanced Graphics – Virtual Robot Control) is a comprehensive software package that provides accurate 3D simulation of robot cells for offline design, programming, testing and learning of Yaskawa MotoMan Robots.
MotoSIM can be used in the CTE classroom to scale the learning and put a simulated industrial robot on the desk of every student. The realistic visualization allows students to practice, learn, become familiar and program real robotic scenarios. The software developed can be transferred to a real robot for testing r operation.
This powerful simulation software can be used to learn robot programming and operation and to optimize robot and equipment placement, perform collision detection, reach modeling and cycle calculations. It also provides accurate off-line programming of complex systems.
The MotoSIM EG-VRC supports standard INFORM III (robot language) instructions, and can completely simulate the FS100 and YRC1000 controller software in a PC environment, including system configuration functions and condition file editing. The application can easily create 3D PDF and AVI files to view and share cell layouts or program operation. The viewing angle and start/stop playback of the robot program can be modified within the 3D PDF file.
MotoSIM EG-VRC supports multiple process applications including arc and spot welding, cutting, handling, painting and sealing. Programs created in MotoSim EG-VRC for Education can be downloaded to the robot controller.
FEATURES
APPLICATIONS
REQUIREMENTS
DATA SHEET