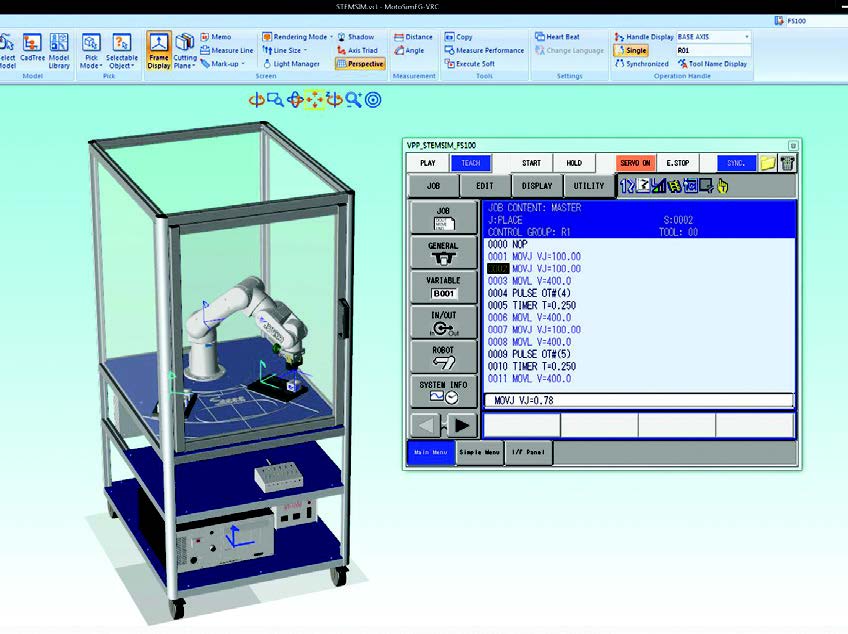 DESCRIPTION
MotoSim® EG-VRC (Motoman Simulator Enhanced Graphics – Virtual Robot Control) is a comprehensive software package that provides accurate 3D simulation of robot cells for offline design, programming, testing and learning of Yaskawa MotoMan Robots.
MotoSIM can be used in the CTE classroom to scale the learning and put a simulated industrial robot on the desk of every student. The realistic visualization allows students to practice, learn, become familiar and program real robotic scenarios. The software developed can be transferred to a real robot for testing r operation.
This powerful simulation software can be used to learn robot programming and operation and to optimize robot and equipment placement, perform collision detection, reach modeling and cycle calculations. It also provides accurate off-line programming of complex systems.
The MotoSIM EG-VRC supports standard INFORM III (robot language) instructions, and can completely simulate the FS100 and YRC1000 controller software in a PC environment, including system configuration functions and condition file editing. The application can easily create 3D PDF and AVI files to view and share cell layouts or program operation. The viewing angle and start/stop playback of the robot program can be modified within the 3D PDF file.
MotoSIM EG-VRC supports multiple process applications including arc and spot welding, cutting, handling, painting and sealing. Programs created in MotoSim EG-VRC for Education can be downloaded to the robot controller.
FEATURES
Features
Operates like a real environment
Displays the actual programming pendant interface
Supports multiple process applications including arc and spot welding, cutting, handling, painting and sealing
Designed specifically for K-16 schools and training organizations
• Simulates a fully functional production environment
• Setup in the classroom or robotics lab is quick and easy
• Education license for class to learn robotic operation and programming simultaneously with no hardware
Provides "real" robot experience while programming off-line on a PC
Learn in a safe, virtual environment
Practice advanced robot capabilities
Share programming code or upload to a Motoman® robot
Offline programming and testing reduces programming time and increases uptime
APPLICATIONS
Applications
Large class access to virtual robots
Virtual learning in safe environment
Multi-user access to robot exercises with limited hardware.
Testing environment for robotic training
REQUIREMENTS
Minimum Hardware Requirements
Using MotosimEG-VRC, is like using advanced 3D CAD software. It can require computing hardware a little more powerful than the average business machine.
Below is a table displaying a sample of known, good hardware for light and heavy use.
 

Use Motosim Occasionally

Use Motosim Frequently

CPU: 

Intel Core i5 8269U or higher

Intel Core i7 8xxx / Xeon E-21xx or higher

Graphics:

Intel Iris Plus Graphics 655 or newer

NVidia Quadro graphics (P2000 series or higher)

Memory:

8GB or more

16GB or more (ECC preferred)

Storage: 

hard drive with 4GB free

NVMe SSD with 4GB free

OS: 

Windows 10

Windows 10

Examples:

Microsoft Surface Pro

Lenovo Thinkpad X1 Carbon

Lenovo P52 or P72

Dell Precision 7000 or 5000

HP Zbook 17 or 15
Note:
Two monitors are recommended to view the simulation graphics and the virtual pendantsimultaneously

For mobility, a USB monitor is recommended.

If upgrading to a more powerful laptop is not possible then an external GPU might be an option.
Tip: Professional GPU vs Gaming GPU
Many people think that gaming graphics cards (GPU) are sufficient when working with professional 3D software like MotoSIM. It is not.  Gaming cards are not designed for the precision required and can result in screen corruption.
DATA SHEET
Data Sheet
Click here to download a pdf data sheet.
DOWNLOAD