RoboCell integrates ScorBase's robotic control software with interactive 3D solid modeling simulation software. RoboCell's virtual robots and devices accurately replicate the actual dimensions and functions of Intelitek Robotic equipment.
Students can teach positions, write programs and debug robotic applications offline before executing them in an actual workcell. RoboCell allows students to experiment with a variety of simulated workcells, even if the actual workcells do not exist in the lab.
Advanced students can even design 3D objects and import them into RoboCell for use in virtual workcells.
Robocell can run ScorBase programs in 3 modes:
– Online mode: Enables you to control the robotic cell
– Simulation mode: Controls the virtual robotic cell simulation in the 3D display
– Offline mode: Enables checking of ScorBase programs
Description
Programming and control
Fully integrated with ScorBase robotics software, an intuitive tool for programming and operating robotic workcells.
Dynamic 3D Simulation
Fully functional 3D graphic display module provides dynamic simulation and tracking of the robot and devices in the workcell
Simulation of robot movements and gripper part manipulation
Simulation of peripheral axes: conveyor belts, XY tables, rotary tables, linear slidebases
Simulation of CNC mills and lathes: moveable machine parts such as door, chuck and spindle; user-definable machine cycle-time; CNC processing reflected in shape of virtual parts
Simulation of automated welding system: welding of multiple parts of varying shapes; full simulation of welding parameters: wire feed rate, robot speed, inert gas shield and voltage; analysis and simulated display of weld according to welding parameters allows users to study parameters effect on weld quality; incorrectly set parameters or misplaced objects results in flawed or failed weld
Simulation of parts: objects fall according to laws of gravity; stacked objects move together when lower object is moved; feeders supply parts according to user-defined properties and quantities
Simulation of different types of sensors
Detection and response to impact conditions and axis limits
Point and click on screen to move the robot and teach position
Display of robot origin, work envelope and gripper position
Display of coordinates of workcell objects and devices: absolute positions or positions relative to robot origin
Display of names of robot, workcell objects and devices
Various viewing and display controls; zoom, rotate, pan, drag, redirect, continuous follow-me camera, shading and lighting
Display of gripper path during robot movement
Can simultaneously display 3 different 3D views of robotic cell
Robotic Workcell Setup
Interactive graphic setup enables creation of virtual robotic workcells
Simple point and click manipulation of object for placement and definition
Peripheral axis placement and connection: conveyor belts, XY tables, rotary tables, linear slidebases
Part definitions and properties: color, size, position; unlimited number of parts of any shape or color
Definition and connection of sensors and I/O devices
Definition of parts in storage devices and feeders; feeders can supply any quantity of any part
Definition of CNC machines, control of machine doors and machine cycle time
Predefined welding cell; user can modify
CAD file import utility for user-defined parts and objects
Setup module can be activated directly from ScorBase module
Interface languages
English, Spanish, Portuguese, German, Korean, Vietnamese, Polish
Can be easily translated into any user language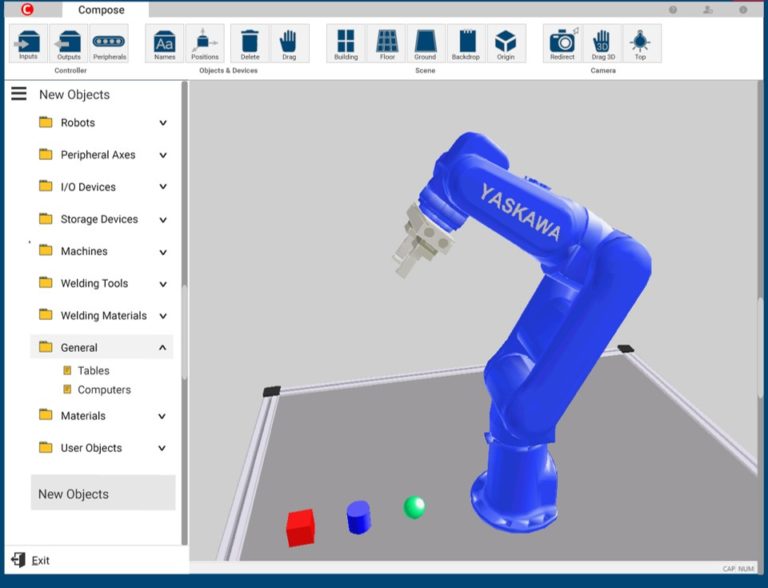 Data Sheet