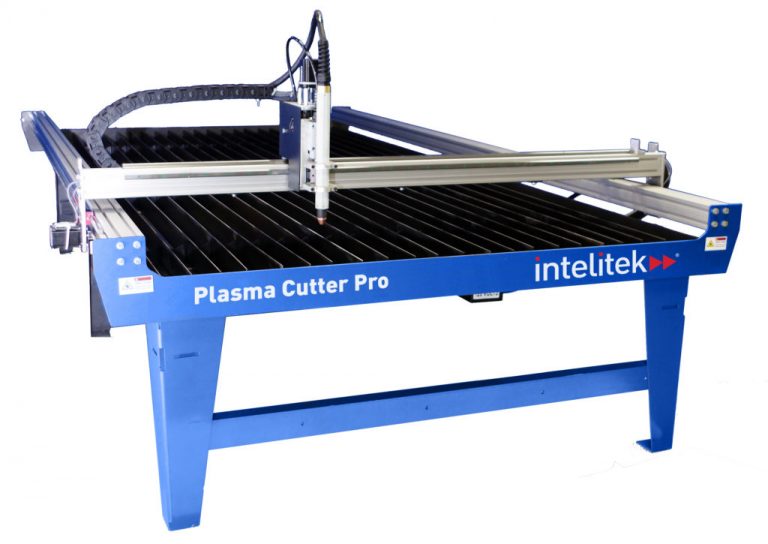 OVERVIEW
SOFTWARE
DATASHEET
OVERVIEW
Overview
Intelitek's JobMaster Plasma Cutter Pro systems include a range of plasma cutting tables for education that are engineered to deliver optimal repeatability and performance for your classroom or FabLab. With several sizes to choose from, the Plasma Cutter Pro machines fit easily into any classroom and require no assembly, arriving at your facility ready to use. These plasma mechanized systems are used to cut a wide range of conductive materials, including mild steel, carbon steel, stainless steel, aluminum, copper, brass, and other metals.
Plasma Systems Include:
Plasma Cuter Table (2'x2′, 4'x2′, 4'x4′, 4'x8′ and 5'x10′)
4″ or 8″ Water Table
Plasma Station/Arc Voltage Height Control
Magnetic Breakaway
Floating Head Switch
Controller with Mach3 Software
VCarve Pro CAD Software and 40 User Education License
SheetCAM TNG Software
Sign Torch Software
PC (fully tested with software installed)
Hypertherm CNC Plasma Torch Systems

These portable, professional-grade air plasma cutting systems offer
increased cut capacity as well as enhanced gouging and marking capabilities. These systems are built to withstand heavy duty use in demanding environments and are an ideal choice for cutting and gouging of any electrically conductive metal. Select the model for the system size and cut capacity required.
SOFTWARE
DATASHEET
All specifications subject to change without notice. All trademarks are property of their respective owners © Intelitek