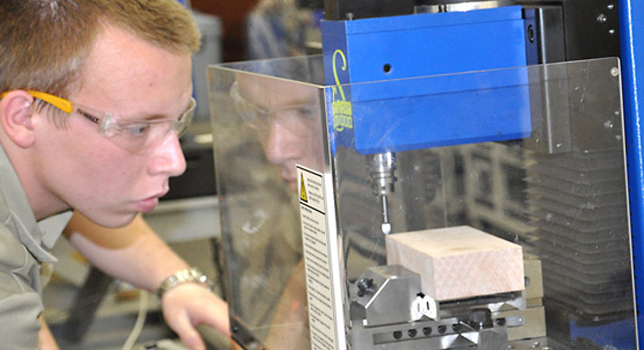 Intelitek's Advanced Manufacturing Technology (AMT) projects are engaging simulations of the commercial automated manufacturing process. These projects follow a team approach featuring rapid prototyping and concurrent engineering methods.
By means of this SkillsUSA competition, students demonstrate the skills needed for employment in the field of automated manufacturing technology. With emphasis on the team approach to problem solving in a work environment, the AMT projects enable students to display their skills in a valid, measurable format. The project-based learning approach enables many students to achieve outstanding results.
Intelitek offers two challenging AMT projects:
Four-Cavity Mold
Planetary Gearbox
CO2 Car
Chess Set
Chess Set
Golf Putter
Precision Measuring Device
Yo-Yo
Each project involves all aspects of CAD / CAM / CNC technology, including design, precision measurement, machine setup, part fabrication and quality control. Students are guided through the each step via LearnMate® e-learning curriculum. Prototypes are machined from Ren board and submitted to quality control. Teams are then presented with a change order and repeat the manufacturing process, incorporating the specified modifications. Teams document each stage of the CAD/CAM/CNC process, producing a properly dimensioned CAD print for each of the components and completing a written math test.
Intelitek's well-designed projects encourage students to use imagination and inquiry to develop individual solutions. Projects enable students to work in groups in an immersive instructional experience with the common goal of developing solutions to relevant scenarios. Students develop communication, time-management and leadership skills while also learning core engineering principles.
Projects unveil student potential as students see how their ideas and decisions shape project outcomes. This level of student influence in the learning process helps make the connection between careers and the educational experience.