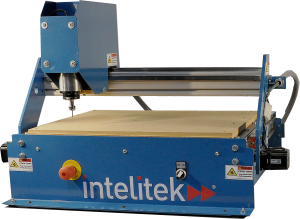 OVERVIEW
Overview
Intelitek's package of CNC routing equipment ships with everything needed to get started quickly including starter material, all relevant CAD/CAM software's and sample G-Code projects. Just follow the easy to use getting started guide and cut!
Intelitek's experience in both CNC and educational training via Learnmate allows users to be making their own complex project quickly. This allows users to create large structures and have a hands on approach to turning 2D materials into 3D objects.
Benefits
Allows visualization of assembly of 2D object in 3D space
Gives students the ability to create impressive large scale projects at a very low cost
Fast Paced project based learning allows students to produce results quickly to keep them motivated
Cut most projects in under 30 Minutes
Teach G-Code an industry standard, that's used with other CNC mills and lathes
Make impressive projects using up to 4ft x 8ft sized materials
Includes 30 Seats of V-Carve Pro CAD/CAM software. This allows the entire class to use the software not
just a single person.
COURSE OUTLINE
Express CNC Router Curriculum
Intelitek's brand new express curriculum is a direct, project driven course that enables students to bring objects they create to life quickly and motivates them to complete other projects. They will learn terminology related to CNC. Setting up the router using Mach3™ control software. This is followed up by five projects using Vectric VCarve Pro to produce amazing results.
Course Outline
Getting Started Routers
Basic Terminology
Axis of Travel
Securing the Work Piece
Installing a Tool
Spoil board
Dust Collection
Mach3 Layout
Homing the Router
Jogging the Router
Setting Part Zero
G-Code Editing
Cutting a Sample Part
Introduction to Vectric VCarve Pro
Making a Sign
Setting the Part Size
Creating a Border
Creating Text
Cutting a Part
Making a Gear Clock
Drawing
Closing Objects
Patterning
Fillets
Modifying Lines
Cutting a Part
Importing a Picture
Importing Pictures
Creating Vectors
Feature Recognition
Adding Depth
Cutting Parts
Importing a Drawing DXF/DWG/SVG
Import a DXF
Engraving
Pocketing
Contouring
3D Dinosaur Project
Importing Individual Parts
Layout Board
Part Spacing
Creating Joints
Running Parts
SOFTWARE
Mach3
Mach3 has become the popular choice of CNC light duty routers; feature rich and provides a great solution for a CNC control package. Mach3 works on most Windows PC's to control the motion of the router by processing G-Code into physical movements. While offering many advanced features found in more complex control systems.
VCarve Pro
After searching for the best and easiest to use CAD/CAM software for CNC routers, Intelitek chose VCarve Pro to create the files used by the router to bring projects to life. This software works with 3D / 2D files created by your favorite CAD software and popular graphics files like JPEG and SVG for those more artistically inclined.
BROCHURE
Brochure
Click here to download a pdf Brochure.
DOWNLOAD