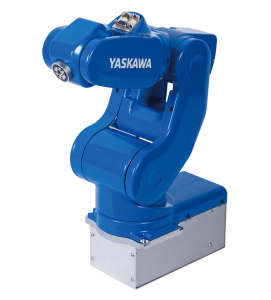 Description
The Motoman GP8 is an advanced material handling robot that offers high speeds, an 8 kg (17.64 lbs) payload, and 727 mm (28.62") reach. This robot is designed to provide easy set-up, The MotoMini robot is the smallest and lightest 6-Axis robot in the industry. The 7-kg (15.5 lb) robot is easy to carry, ship and install.
Equipped with the highest acceleration in a small-sized robot the MotoMini is 20% faster than comparable small robots, reducing cycle time and boosting productivity. Internal cabling and air lines minimize interference with other process equipment, and a variety of mounting options (surface, wall ceiling, etc.) accomodate high-density factory layouts. Designed for extremely agile high-speed performance for a wide range of applications, the quiet, compact, and precise MotoMini can take small-part
processes to the next level.
The MotoMini is paired with the advanced YRC1000micro controller, the smallest robot controller in its class, that can be installed in either a vertical or horizontal position, as well as within a 19-inch rack. The YRC1000micro sports functions & performance optimized for transfer and assembly applications. The YRC1000micro offers easy connectivity to peripherals, high speed and high precision motion control, and advanced safety functions.
Standard features
Extremely lightweight, six-axis industrial robot with high acceleration
Industry 4.0 integration and functionality built in
Tabletop, floor, ceiling, tilt or wall mount installations save valuable floor space
0.5 kg (1.1 lb) payload
Unique variety of tooling and sensors to fulfill diverse project needs
Compact footprint allows mounting close to workpieces and machinery
Cables and air lines routed through robot increase cable life, enhance safety and reduce teaching time
• Single power and control cable for easy setup
Less than 65 dB for quiet operation
Home position data can be saved without battery connection for easy maintenance
Works with powerful and precise ultracompact YRC1000micro controller
Applications
Assembly
Dispensing
Inspection
Kitting
Machine Tending
Material Handling
Packaging
Parts Feeding
Sorting
Specifications
Mechanical Specifications
Structure
Articulated – arm
Controlled Axes
6
Payload
0.5 kg (1.1 lbs)
Vertical Reach
495 mm (19.5")
Repeatability
±0.02 mm (±0.0008″)
Maximum Motion Range
S-Axis (Swivel Base) ±170°
L-Axis (Lower Arm) +90°/-85°
U-Axis: (Upper Arm) +120°/-175°
R-Axis: (Arm Roll) ±140°
B-Axis: (Wrist Bend) ±210°/-30°
T-Axis: (Tool Flange) ±360°
Maximum Speed
S-Axis (Swivel Base) 315°/s
L-Axis (Lower Arm) 315°/s
U-Axis: (Upper Arm) +420°/s
R-Axis: (Arm Roll) 600°/s
B-Axis: (Wrist Bend) 600°/s 
T-Axis: (Tool Flange) 600°/s
Approximate Weight
7 kg (15.5 lbs)
Power Consumption
0.5 kVA
Allowable Moment
R-Axis: (Arm Roll) 0.42 N • m 
B-Axis: (Wrist Bend) 0.42 N • m 
T-Axis: (Tool Flange)0.37 N • m
Allowable Moment of Inertia
R-Axis: (Arm Roll) 0.00378 kg • m2
B-Axis: (Wrist Bend) 0.00378 kg • m2
T-Axis: (Tool Flange) 0.00299 kg • m2
Controller
YRC1000-micro controller
Optimized acceleration/ deceleration control improves robot cycle time up
to 10%
High path accuracy control enables increased path precision
Single controller-to-robot cable for easy setup and improved cable
reliability
Easily connects to peripheral devices
Faster ladder scanning time and fast I/O speed for little to no communication lag for advanced system devices
Built-in preventative maintenance tools to prolong system life
3D Robot simulation on pendant to confirm programmed coordinates
Functional Safety Unit already integrated.

 
Dimensions: 
425 (W) x 125 (H) x 280 (D) mm
16.7" (W) x 4.9" (H) x 11.0" (D)
Weight:
10.5kg / 23.2 lbs
Operating Temperature:
0˚C to +40˚C (operation)
-10˚C to +60˚C (storage)
Type of Control:
Software servo control
Communications: 
10BASE-T/100BASE-TX
Digital I/Os:
Specialized signals: 7 inputs and 1 output
General signals: 8 inputs and 8 outputs
(8 transistor outputs)
IEC Protection Class:
IP20
Programming Capacity:
JOB: 200,000 steps, 10,000 instructions
CIO ladder: 1,500 steps max.
Expansion Slots:
PCI express: 2 slots
Positioning System
Serial communications (absolute encoder)
Power Requirements
Single-phase 200/230 VAC (+10% to –15%),
50/60 Hz (±2%)
Safety Features: 
Integrate FSU (Functional Safety Unit) for position monitoring (32 zones), speed limiting, tool monitoring, graphic pendant setup.
 
 
Accessories
Standard Programming Pendant
Dimensions: 152 (W) x 299 (H) x 53 (D) mm / 6.0" (W) x 11.8" (H) x 2.1" (D)
Weight: 0.73 kg / 1.61 lbs
Display: 5.7-inch color LCD, touch panel 640 x 480 pixels
IEC Protection Class: IP54
Cable Length: Standard: 8 m, max: 20 m (optional).
Smart Programming Pendant
Capacitive touchscreen smart device:
10.1" WXGA TFT Display
1280 x 800 pixels
LED back light touch panel
Dimensions: 215 (W) x 283 (H) x 68.5 (D) mm / 8.5" (W) x 11.1" (H) x 2.7" (D)
Weight: 1.12 kg / 2.5 lbs
Data Sheet
Data Sheet
Click here to download a pdf data sheet.
DOWNLOAD