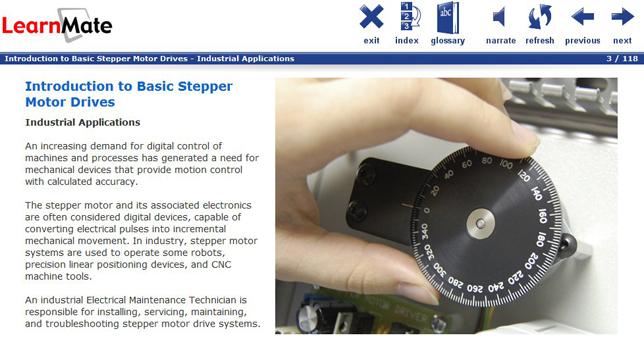 DESCRIPTION
Stepper Motor Drives (EB05) delivers hands-on skills using stepper motor systems found in robots, precision linear positioning devices, CNC machines and other devices that provide motion control with calculated accuracy. Students acquire skills including confirming stepper motor step angle and troubleshooting stepper motor drives. The skills-based curriculum builds on the concepts learned in the prerequisite courses in the Industrial Power Electronics series, presenting seven additional skills with an industrial-grade stepper motor and drive.
Included
Order #16-EB05:
LearnMate® E-learning Content: Stepper Motor Drives (EB05)
Teachers' Guide
(1) Flexponent® panel:
Panel E090: Stepper Motor and Drive
REQUIRED
(sold separately)
JobMaster® Learning Station Order #10-LS00-0200
Power Control Panel (120V): Order #10-PC04-0000
* International step-down transformer package (Order #10-PC09-0000) required for international applications.
Prerequisite courses
Electronic Timers (EB04) Order #16-EB04
COURSE OUTLINE
Skills Acquired
Skill 1: Identifying Detent Torque
Skill 2: Confirming Stepper Motor Step Angle
Skill 3: Demonstrating Stepper Motor Principles
Skill 4: Confirming Stator Winding Connections
Skill 5: Demonstrating Unipolar Stepper Motor Drive
Skill 6: Installing, Connecting and Monitoring a Basic Stepper Motor Drive
Skill 7: Testing and Troubleshooting a Basic
Stepper Motor and Drive

SPECIFICATIONS
Hardware Specifications
Panel E090: Stepper Motor and Drive
Panel type: Single
1 Stepper motor
1 Stepper drive
1 NO pushbutton switch
1 Potentiometer
1 Dial
1 IC test clip, 16-position
2 Fault switch, 4A, 250V, push-on/push-off momentary

RELATED