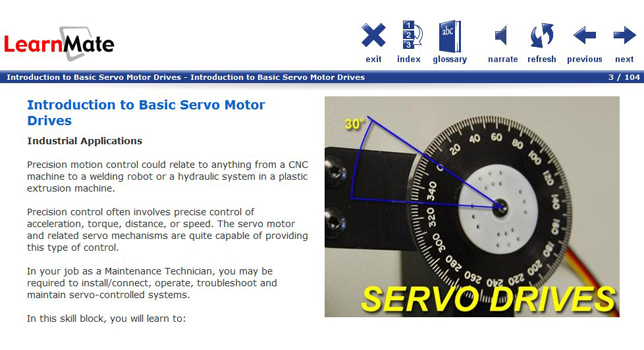 DESCRIPTION
Servo Motor Drives (EB06) guides students through six additional skills with an industrialgrade servo motor and drive mounted on a Flexponent® panel. Using precision servo motor systems found in CNC machines, robotic and hydraulic systems, students learn closed-loop servo motor control and system feedback principles while acquiring skills including installing and troubleshooting servo motor drives.
Included
Order #16-EB06:
LearnMate® E-learning Content: Servo Motor Drives (EB06)
Teachers' Guide
(1) Flexponent® panel:
Panel E091: Servo Motor and Drive
REQUIRED
(sold separately)
JobMaster® Learning Station Order #10-LS00-0200
Power Control Panel (120V): Order #10-PC04-0000
* International step-down transformer package (Order #10-PC09-0000) required for international applications.
Prerequisite courses
Stepper Motor Drives (EB05) Order #16-EB05
COURSE OUTLINE
Skills Acquired
Skill 1: Demonstrating Closed-Loop Servo Motor Control Principles
Skill 2: Demonstrating Closed-Loop Servo Motor Principles
Skill 3: Demonstrating Servo System Feedback Device Principles
Skill 4: Demonstrating Analog and Digital Servo Motor Drive Principles
Skill 5: Installing, Connecting and Monitoring a Basic Servo Motor Drive
Skill 6: Testing and Troubleshooting a Basic Servo Motor Drive

SPECIFICATIONS
Hardware Specifications
Panel E091: Servo Motor and Drive
Panel type: Single
1 Servo motor
1 Servo drive
1 NO pushbutton switch
1 Potentiometer
1 Dial
1 IC test clip, 16-position

RELATED
Oscilloscope (EB01A)
DC Power Supplies (EB02A)
Thyristor Electric Motor Drives (EB03)
Electronic Timers (EB04)
Stepper Motor Drives (EB05)
Optoelectronics (EB07)
Digital Multimeter (EB01B)
Hand-held Oscilloscope (EB01C)
Single-phase & Three-phase Power Supplies (EB02B)