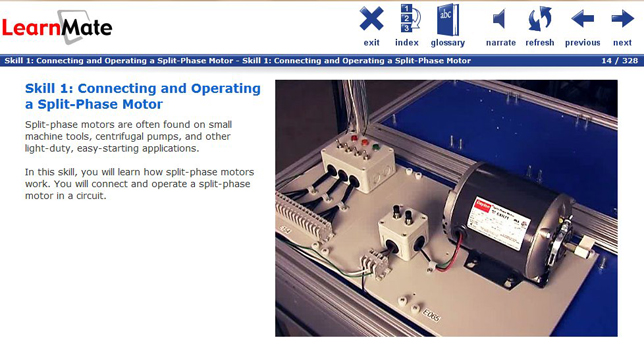 DESCRIPTION
EA04: Electric Motors features skills-based e-learning curriculum guiding students through hands-on activities using common industrial motors, including three-phase, split-phase and capacitor-start motors. From wiring motor circuits to preventive maintenance and troubleshooting, students gain practical experience in all aspects of industrial motors operation.
COURSE OUTLINE
Connecting and Operating a Split-Phase Motor
Connecting and Operating a Capacitor-Start Motor
Connecting and Operating a Shaded-Pole Motor
Connecting and Operating a DC Motor
Connecting and Operating a Three-Phase Motor
Performing Visual Inspection
Lubricating Motors
Performing DMM and Motor Megger Tests
Troubleshooting a Split-Phase Motor
Troubleshoot A Capacitor-Start Motor
Troubleshooting a Shaded-Pole Motor
Troubleshooting A DC Motor
Troubleshooting A Three-Phase Motor
Testing Motors With Adjustable Loads
SPECIFICATIONS
Panel & Hardware Specifications
All included Flexponent® panels meet the following specifications:
Construction:
3/8″" (9.5 mm) thick environmentally stabilized, chemically resistant, non-conductive, high density polyethylene.
Terminal strips Industry-standard recessed and insulated fasteners rated for 50-amps at 600 volts.
Dimensions
Single panel:
8″"W x 11.5″"H x 0.375″"D
(203 mm x 292 mm x 9.525 mm)
Double-wide 16″"W x 11.5″"H x 0.375″"D
(406 mm x 292 mm x 9.525 mm