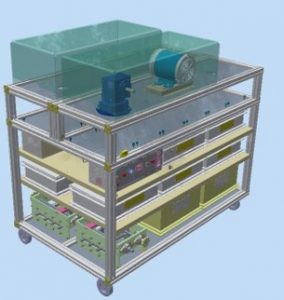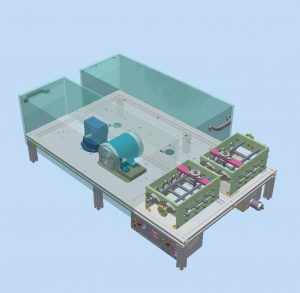 DESCRIPTION
FEATURES
COURSE LEVELS
OPTIONAL ADD-ON LEVELS
DATA SHEET
DESCRIPTION
The JobMaster® Mechanical Training Program is a robust, modular and stand-alone CTE solution providing comprehensive training in mechanical power transmission for students who will integrate into industry jobs. JobMaster® Mechanical Systems teaches the specialized skills required for today's industrial technicians. The skills-based training is built with real-world industry in mind and is structured to deliver learning via job tasks in formats that students will see when they work in actual plants. The trainer features industrial-strength components housed in a modular and mobile framework with a customized modular storage system. Designed for ease of use, the trainer can be installed on the optional mobile base or any suitable workbench for single sided, or dual sided use, and can be customized to include the training components needed for your course structure.
Flexible, Modular, Mobile Platform
The solution features six levels of mechanical elements including the basic and advanced machines, shafts, bearings, belt drives, chain drives, gear drives, couplings, brakes & speed reducers, laser
alignment, vibration analysis and bearing maintenance. The JobMaster Mechanical Training series provides a superior blended learning solution for training to prepare students for jobs in manufacturing and industrial maintenance by combining industrial grade components with engaging e-learning curriculum. With JobMaster, you can be sure your training program will deliver the skills needed for success in automated manufacturing careers!
Level 1 – Machines/Shafts/Bearings – JM-MBL1-000x
Level 2 – Belts/Chains/Couplings – JM-MBL2-000x
Level 3 – Gears/Brakes/Speed Reducers – JM-MBL3-000x
Level 4 – Laser Alignment – JM-MBL4-0000
Level 5 – Vibration Analysis – JM-MBL5-0000
Level 6 – Bearing Maintenance Kit – JM-MBL6-000x
System Components
Mechanical Training Working Surface (included with Level 1)
Standalone working surface setup suitable for use with Intelitek Mobile Bench or other workbenches
Single or Double sided configuration
Dimensions: 52" x 32" x 8" (LxWxH) 1310mm x 800mm x 203mm
Lab Hardware Kits (included in level bundles)
Hardware kits with industrial grade training components:
Coupling Kit
Shaft, Bearing Kit
Sheave, Pulley, Sprocket Kit
Motor/Speed Reducer Kit
Gears Kit
C-Brake/Speed Reducer Kit
Gear Box Kit
Laser Alignment Kit
Vibration Analysis Kit
Bearing Kit (standalone)
Mobile Bench for Mechanical Training (optional add on)
Mobile Bench for Elec/Mech Series – 00-1800-0001 (Optional)
Shelf Set for Mobile Bench – 10-1800-0001 (Optional)
Dimensions: 52" x 32" x 32" (LxWxH) 1310mm x 800mm x 800mm
FEATURES
COURSE LEVELS
OPTIONAL ADD-ON LEVELS
DATA SHEET