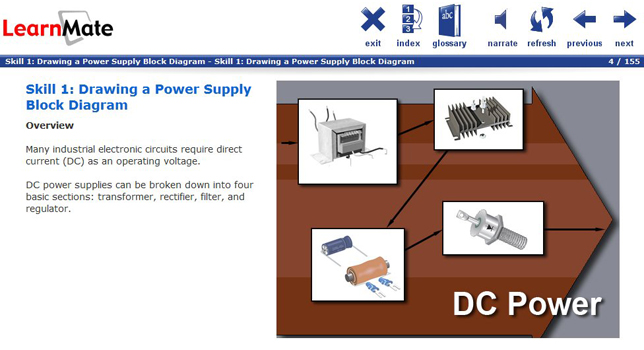 DESCRIPTION
DC Power Supplies (EB02A) delivers hands-on skills in operating industrial-grade bridge rectifiers, transformers and test equipment. The skills-based curriculum builds on the concepts learned in the prerequisite test instruments courses: Oscilloscope (EB01A) and Digital Multimeter (EB01B). DC Power Supplies (EB02A) presents eleven additional skills using bridge rectifiers, diode rectifiers and low-voltage transformers mounted on three included Flexponent® panels.
Included
Order #16-EB02A:
LearnMate® E-learning Content: DC Power Supplies (EB02A)
Teachers' Guide
(3) Flexponent® panels:
Panel E039: Single-Phase Bridge Rectifier
Panel E061: Low-voltage Transformer
Panel E062: Diode Rectifiers
REQUIRED
(sold separately)
JobMaster® Learning Station Order #10-LS00-0200
Power Control Panel (120V): Order #10-PC04-0000
* International step-down transformer package (Order #10-PC09-0000) required for international applications.
Prerequisite courses
Digital Multimeter (EB01B) Order #16-EB01B
COURSE OUTLINE
Skills Acquired
Skill 1 Power Supply Block Diagram
Skill 2 Schematic Symbols
Skill 3 Testing a Transformer
Skill 4 Locating Diodes and Symbols
Skill 5 Testing a Diode
Skill 6 Drawing a Half-Wave Rectifier
Skill 7 Connecting and Operating a Half-Wave DC Power Supply
Skill 8 Confirming Full-Wave DC Power Supply Operation
Skill 9 Connecting and Operating a Full-Wave DC Power Supply
Skill 10 Confirming Single-Phase Bridge Rectifier Operation
Skill 11 Connecting and Operating Single-Phase Bridge Rectifier
SPECIFICATIONS
Hardware Specifications
Panel E039: Single-Phase Bridge Rectifier
Panel type: Single
1 Bridge rectifier, 25A, 200V
1 Heatsink, TO-3, 76.2mm
2 Fault switch, 4A, 250V, push-on/push-off momentary
Panel E061: Low-voltage Transformer
Panel type: Single
1 Transformer, bobbins, 115V to 24V, 96A
1 Midget fuse block, 30A
1 Fuse, midget, 10A, fast acting
2 Fault switch, 4A, 250V, push-on/push-off momentary
Panel E062: Diode Rectifiers
Panel type: Single
2 Recovery rectifier, 16A, 1.23V
1 Heatsink, TO-3, 76.2mm
2 Fault switch, 4A, 250V, push-on/push-off momentary

RELATED
Oscilloscope (EB01A)
Thyristor Electric Motor Drives (EB03)
Electronic Timers (EB04)
Stepper Motor Drives (EB05)
Servo Motor Drives (EB06)
Optoelectronics (EB07)
Digital Multimeter (EB01B)
Hand-held Oscilloscope (EB01C)