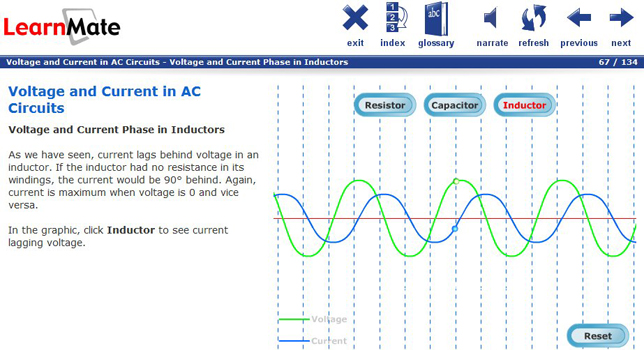 DESCRIPTION
EA01D: Motors and Generators features skills-based curriculum and hands-on activities. Students students gain a complete understanding of the practical operation of motors, generators and phase relationships.
EA01D: Motors and Generators delivers the skills needed for success in industrial maintenance careers, including:
Operating AC and DC Generators
Operating a Series Motor
Reactance and Impedance
Three-Phase Power
REQUIREMENTS
Components required (sold separately):
JobMaster® Learning Station
Power Control Panel: PC04 (120V)
Prerequisite Courses:
Electrical Circuits (EA01A)
Resistors and Conductors (EA01B)
LCR Circuits (EA01C)
Each JobMaster® module includes the listed hardware and panels to add to your JobMaster® Training station, as well as skills-based curriculum.
All modules require a JobMaster® Training Station, sold separately.
Some modules also require hardware and/or panels purchased as part of prerequisite skill blocks in the same series, as noted on each product data sheet
COURSE OUTLINE
Skills Acquired
Skill 1: Operating a PMDC Motor
Skill 2: Operating a DC Generator
Skill 3: Operating an AC Generator
Skill 4: Operating a Series Motor
Skill 5: Reactance and Impedance
Skill 6: Applying Phase Relationship Principles
Skill 7: Three-Phase Power
Skill 8: Measuring AC Voltage