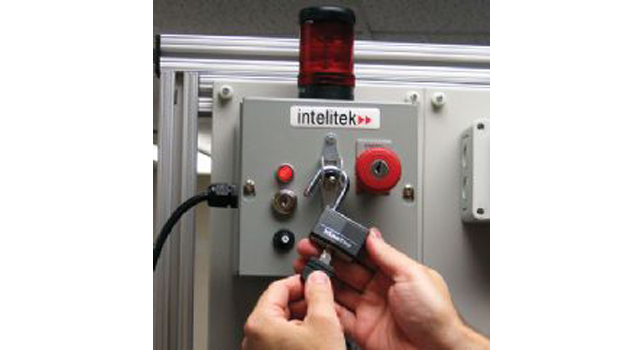 DESCRIPTION
REQUIREMENTS
SPECIFICATIONS
DATA SHEET
DESCRIPTION
JobMaster® Power Control (PC) panels mount on the Learning Station to provide the electrical connection to your facility power. PC panels feature industrial-level safety controls, including the lockout/tagout point, emergency stop, and the on/off switch for all the learning station components. Each power control panel provides three forms of lockout: one for the instructor, one for the student, one for emergency stop conditions. These features assure a safe environment in the classroom and expose trainees to the same environment they will encounter in industrial settings. Power controllers are available for both 120V single phase and 220V three-phase power supplies. Each JobMaster® technology training course specifies the model power controller needed.
Standard Features
Two keys enable instructors to control access to the learning station: The power lock switch must be activated using the power lock switch key before power will flow through the panel. Once the power lock switch is engaged, indicated by the power indicator light, the on/off toggle switch serves as the power switch to any components wired to the panel. The emergency stop key is required to reset the e-stop once activated. Overload protection: If tripped because of a circuit overload, the 5-amp breakers and power lock switch must be reset. Emergency stop disconnects power to the entire system when activated. Once engaged, both the e-stop and the power lock switch must be reset using the respective keys. Beacon warning light flashes when the e-stop is activated and continues flashing until the emergency stop button is reset. Industry-standard terminal strips.
Included
Materials Included
Order #10-PC04-0000
120V Single-phase Power Control Panel (PC04)
120V single-phase*
Weight 6.75 lbs (3 kg)
Dimensions 8′ x 14′ x 6.375′ (203 mm x 356 mm x 162 mm)
Order #10-PC06-0000
240V Three-phase Power Control Panel (PC06)
220V (+/- 10%) three-phase*
Weight 7.45 lbs (3.375 kg)
Dimensions 8′ x 14′ x 6.375 (203 mm x 356 mm x 162 mm)
Note:
The PC06 power connection cable does not include a
plug. You must provide and install the plug to match your
facility' receptacle type.
Order #10-PC09-0000
International step-down transformer package*
*International step-down transformer package required for
international applications.
REQUIREMENTS
SPECIFICATIONS
DATA SHEET
All specifications subject to change without notice. All trademarks are property of their respective owners © Intelitek