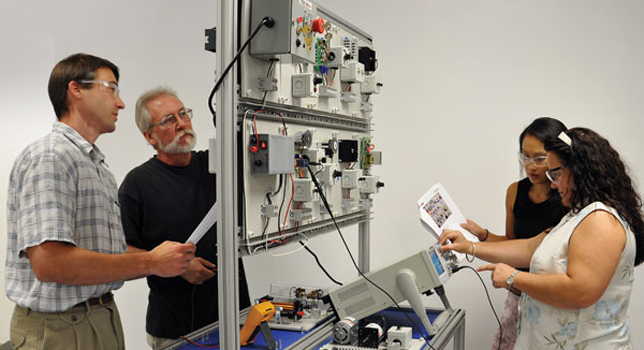 DESCRIPTION
The hardware foundation for the JobMaster® Training System.
The JobMaster® Two-Sided Mobile Learning Station is the hardware foundation of the JobMaster® Training System. Made from sturdy anodized aluminum, the learning station provides the mounting points for JobMaster® Flexponent® panels provided with the JobMaster® courses.
Each side of the learning station can hold 15 standard JobMaster® Flexponent® panels and accommodates two students. Panels may be mounted on the horizontal work surface and on the vertical rack. Students can quickly and easily mount and remove panels to configure their work area for each individual skill.
No other training system provides exposure to industry-standard practices like the JobMaster® system:
All wiring is terminated with crimped ferrules, like those found in industry.
The JobMaster® learning station includes frame-mounted industry-standard conduit, allowing students to learn effective wiring practices when wiring from panel to panel.
The versatile JobMaster® learning station facilitates classroom organization. Lockable swiveling casters are provided for easy mobility. The 32″" (81 cm) depth allows the learning station to fit through standard facility doorways.
For additional panel storage the Portable Panel Storage Unit (PPSU1) is available, which holds up to 50 standard JobMaster® panels. The unit stands on locking casters for easy movement throughout the classroom.
How to build a JobMaster® training system:
1. Purchase Learning Station(s) to accomodate the number of students in your program.
2. Select the JobMaster course(s) you need.
3. Select a Power Control Panel based on course requirements.
(See individual course data sheets.)
4. Select optional components and add-ons.
Standard Features
Frame Construction:
Material: Anodized aluminum U-shaped frame
with 1-1/2″" (38 mm) square t-slot table
Size:
Overall: 76″"h x 44.25″"w x 32″"d
(1930 mm x 1120 mm x 813 mm)
Bench height: 34″" (864 mm)
Vertical rack: 42″" (107 cm)
Wireway: 1″" (2.54 cm) wiring conduit mounted along frame allows for industry-standard wiring practices
Casters: 4″" (10 cm) swiveling and locking
Drawers
(1/side) Full-suspension ball bearing slides
Interior dimensions:6″"H x 12″"W x 16″"D
(15.25 cm x 30.5 cm x 40.5 cm)
Table surface:
Material: 3/8″" (9.5 mm) thick high density polyethylene
Properties: Environmentally stabilized, chemically resistant, non-conductive
Weight:
Assembled weight: 150 lbs (68 kg)
Shipping weight: 245 lbs (112 kg)
Included with each Learning station:
Safety shield (2 included) 8.5″"H x 18″"W x 14.75″"D
(216 mm x 457 mm x 375 mm)
Nylon panel mounting nuts kit
Hook-up lead wire kit :
Various lengths of color-coded 16-gauge insulated and stranded lead wires
Leads terminated on each end with industry-standard uninsulated crimped metal ferrules, no banana jacks
Installation guide
Hex key for assembly
REQUIREMENTS
Power Control Panels (required component)
Each Learning station requires one power control panel for each side in use.
Each JobMaster Module specifies which power controller is needed.
Power Control Panels available
120V single-phase* Order #10-PC04-0000
220V three-phase* Order #10-PC06-0000
Click here to view the full specifications on Power Control Panels.
International step-down transformer package (not shown) Order #10-PC09-0000
* International step-down transformer package required for international applications.
Power Control (PC) panels provide the necessary connection from the learning station to your facility power, as well as the lockout/tagout point, emergency stop, and the on/off switch for all the learning station components.
PC04: 120V Single-phase
PC06: 220V (+/- 10%) Three-phase
RELATED
Portable Panel Storage Unit Order #10-PPSU-0001
Store your JobMaster® panels with the JobMaster® Portable Panel Storage Unit. The Portable Storage Unit provides easy access and safe storage for up to 50 single-format FlexPonent panels. Locking casters enable you to easily move the unit into and out of the classroom.