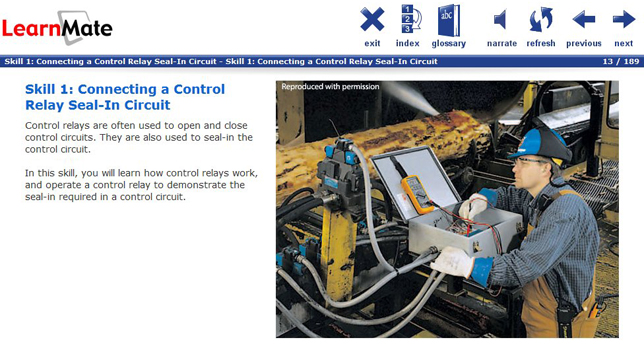 DESCRIPTION
Electromagnetic Motor Starters (EA07) guides students through hands-on activities using industrial motor controls. From wiring motor control circuits to troubleshooting, students gain practical experience in all aspects of industrial motor control, including testing and resetting
overload protection, operating a three-phase reversing starter and troubleshooting a three-phase motor control circuit.
The skills-based curriculum presents eight critical skills using industrial magnetic starters, relays, and START-STOP motor control components mounted on six included Flexponent™ panels which attach to the JobMaster Learning Station (not included). Panels are easily added and exchanged allowing the workspace to be re-configured as multiple students progress through the course. Core concepts are taught through self-paced e-learning curriculum. All the necessary resources, including printable instructions, wiring diagrams and troubleshooting charts, are available online, ready for use at the JobMaster Learning Station. Instructors are also provided comprehensive resources, including a detailed instructors' guide. Teachers' versions of schematics and wiring diagrams as well as tips and tricks are all one click away.
With JobMaster, you can be sure your training program will deliver the skills needed for success in automated manufacturing careers!
Included
Materials Included
Order #14-EA07:
Electromagnetic Motor Starters (EA07) E-Learning
Curriculum and Teachers' Guide
Flexponent'Ñ¢ panels:
E002 START-STOP Control Panel
E004 Single Magnetic Starter Panel
E005 START-REVERSE-STOP Switch Panel
E006 Reversing Magnetic Starter Panel
E010 Three-Phase Motor Panel
E012 Transformer Panel
E016 Analog Relay Panel
E154 Lamps and Switches Panel
E155 HOA Switch Panel
REQUIREMENTS
COURSE OUTLINE
SPECIFICATIONS
RELATED PRODUCTS