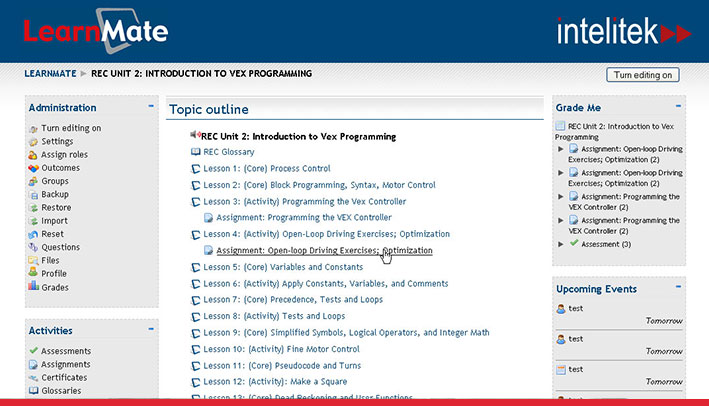 With over 2500 hours of content and a management system that enables real-time assessment of student progress, Intelitek's e-learning solutions are transforming the career and technical education classroom.
Our LearnMate® e-learning platform is a revolutionary tool that delivers curriculum using multiple instructional strategies, providing a responsive and proactive environment for differentiated instruction.
Our e-learning curriculum delivers the benefits of blended learning — an approach that combines interactive simulation with world-class hardware, enabling you to build programs that best meet your academic, logistic and budget requirements.
Using LearnMate, the curriculum is fully integrated with operational software, computer simulation, and lab equipment delivering a seamless classroom solution. Virtual courses consist of 100% on-line, on-demand e-learning with interactive simulations that deliver relevant skills for students. Lab courses feature on-line curriculum and robust hardware for the ultimate hybrid learning experience!  With virtual courses, you can reach more students, cover more subjects and accommodate any budget by eliminating or deferring the hardware costs.
Learn more about how our flexible solutions can deliver for your program!