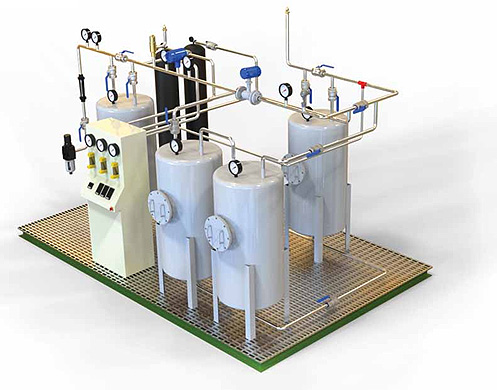 The Gas CO2 Metering Process Pilot Plant (Model PP-102) teaches the industrial implementation of analytical and flow instrumentation in the gas metering process.
The PP-102 Gas Metering Process Pilot Plant system covers the theoretical syllabus and offers practical hands-on exercises including but not limited to:
Understanding the gas metering system industrial standard practices.
Understanding the gas metering process design concept, including mass flow calculation and CO2 composition calculation.
Understanding plant sizing and equipment sizing engineering, e.g. piping sizing, pressure drops along the pipe etc.
Understanding the process plant general layout engineering and design, e.g. equipment arrangement.
Understanding PFDs (Process Flow Diagrams).
Understanding industrial piping systems and installation.
Understanding gas analysis, including gas sampling handling etc.
The Gas CO2 Metering Process Pilot Plant(PP-102) is designed to provide hands-on practical industrial experience. It is custom designed according to learning syllabus objectives, starting from process plant basic design, understanding the instrumentation implementation of gas metering systems, instrumentation selection, instrument calibration, installation, testing and configuration.
The PP-102 is supplied with comprehensive custom written student experiments, a manual with detailed step-by-step procedures to guide students in developing the industrial hands-on practical skills. The PP-102is supplied with an instructor experiment manual that includes theories, sample answers, and conclusions from the experiment outcomes.