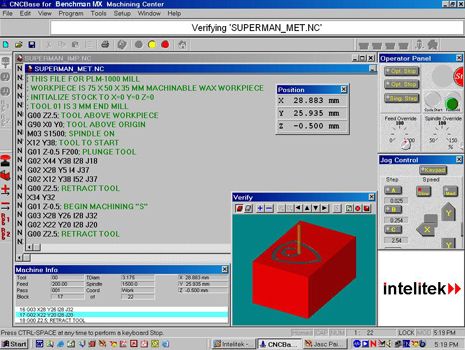 DESCRIPTION
The software is an ideal tool for learning the fundamentals of CNC machining. The user-friendly interface and online help allow users of all levels to control and monitor Intelitek's machining centers, and to write, edit and run NC programs.
The software accepts standard Fanuc-compatible EIA RS274D G&M codes that CNC machine tools recognize.
CNCBase can be purchased separately or as part of the CNCMotion software package.
FEATURES
Standard Features
Programming and control
Compatibility with EIA RS274-D standard G&M codes.
CAD/CAM compatibility.
Advanced NC code editing functions, including automatic block numbering, comment management and code verification.
Absolute and incremental programming.
Supports canned cycles for drilling and boring.
Programmable tool offsets and cutter compensation.
Supports metric and English units.
Unlimited number of programs can be open simultaneously.
Unlimited number of program blocks.
Standard Windows functions for program editing (e.g., cut, copy, paste, find).
Programming verification
Quick verification of G&M code to ensure correct and complete syntax during program editing.
Graphic verification of the tool path ensures precise programming.
Estimate Runtime command to calculate the approximate amount of time necessary to machine your part, and the approximate distance the machine travels.
Manual hardware control
Movement along each axis at customized speed and step settings.
Spindle activation and speed control.
Movement control from dialog box & keyboard.
Real-time data display
Real-time display of current hardware setup, including cross-slide and tool positions, tool in use, machining parameters.
Real-time display of program execution, including block being executed and program run time.
Parameters for adjusting controller operation
Manual override of programmed spindle speed and feed rate.
Configurable soft limits for safe machining.
Parameters can be easily viewed & manipulated.
User interface
NC code color editor
Setup tool library
Two operating modes:
Online: CNCBase communicates with the controller
Simulation: When not connected, you can simulate the machining process with graphic verification and simulated machining.
REQUIRED
Computer System Requirements
Computer requirements
Windows XP SP3/Vista/Windows 7-32 or 64bit
512 MB RAM (1 GB Recommended)
200 MB of available hard drive space
Available Ethernet port
ATX power supply (Recommended)
DATA SHEET
Data Sheet
Click here to download a pdf data sheet.
DOWNLOAD
SCREENSHOTS