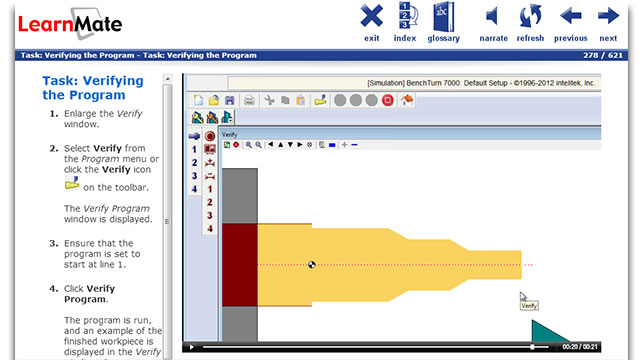 DESCRIPTION
COURSE OUTLINE
RELATED
DESCRIPTION
CNC Turning Technology introduces students to the fundamentals of CNC (Computer Numerical Control) by working with a variety of simulated machining applications with the virtual Benchturn 7000 – 100% online, on-demand!
By means of project-based learning, students gain experience with the entire design and production process. Starting with developing and editing programs, students complete projects to learn proper machine set up, cutting tool selection, tool path simulation and turning center operation. Students design solutions for industrial CNC applications emphasizing optimized programming, precision and productivity.
This virtual CNC course allows students to explore topics through engaging animations and simulations of the same classroom hardware used in the lab version! The simulated machining center features the same an intuitive software interface and conforms to industrial EIA, ISO, Fanuc and G&M code standards.
Included
Order #16-3141
Includes:
LearnMate® Content: CNC Turning Technology with BenchTurn 7000 (Virtual Format)
CNCMotion® CNC simulation software
Sign, CNC Turning Technology
COURSE OUTLINE
RELATED