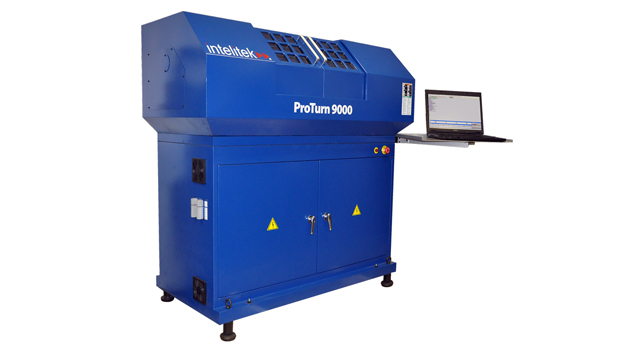 The ProTurn 9000 is a versatile PC-based CNC turning center that enables you to deliver robust instruction in computer numerical control and advanced manufacturing.
DESCRIPTION
COURSE OUTLINE
SPECIFICATIONS
ACCESSORIES
DATA SHEET
DESCRIPTION
Description
The ProTurn 9000 requires no assembly, arriving at your facility ready to run on an Ethernet port on a standard PC. The system uses powerful AC drive motors on the spindle and both axes for cutting a variety of materials. Like larger industrial machines, the ProTurn 9000 AC uses EIA, ISO, and Fanuc-compatible G&M code programs.
Intelitek's CNCBase® control software is easy to learn. The user-friendly control software supports linear, circular, and helical interpolation, multiple tool programming, and canned cycles. This standard software gives users the ability to write and edit standard G&M code programs and view the simulated machining operation on-screen before cutting.
With available supplements like CNCMotion® full 3-D virtual simulation software, Fanuc™ control software and Intelitek's LearnMate® e-learning curriculum specific to the machine, the ProTurn 9000 is the perfect training solution, with exceptional ease-of-use, safety features and reliability.
Standard Features
Ethernet-based control
Powerful AC spindle motor
AC axes motors
Full enclosure with automatic safety door lock
Automatic diagnostics and power cut off protection
PC-based CNC software
Coolant-ready
Jog pendant ready
Robotic integration-ready with 6 inputs, 6 outputs
No assembly required
Included Accessories
Tailstock
4″ 3-jaw chuck with key
4-station automatic tool turret
One shot lubrication system
Internal work light
Turning center accessory package:

(1) Chuck key
(1) Chuck jaw replacement set
(1) Wrench set
(2) Dead centers
(1) 2M cable
(1) Storage box
COURSE OUTLINE
SPECIFICATIONS
ACCESSORIES
DATA SHEET
All specifications subject to change without notice. All trademarks are property of their respective owners © Intelitek