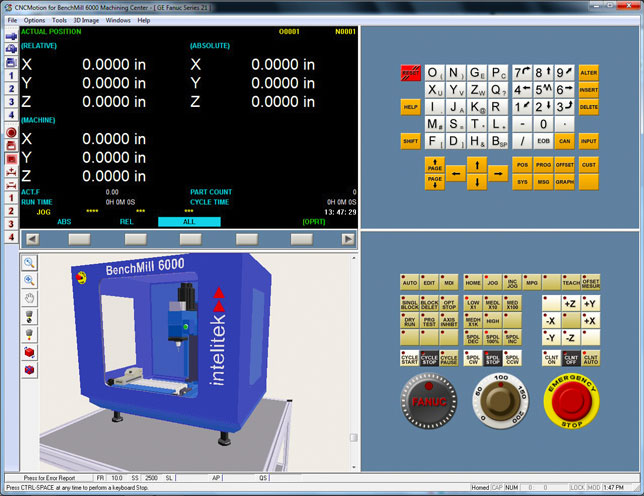 DESCRIPTION
COURSE OUTLINE
DATA SHEET
DESCRIPTION
The Fanuc 21i Emulator is an add on option for both CNCBase and CNCMotion control software.
The FANUC emulator replicates the FANUC 21i CNC controller. This controller and its subset, the FANUC 16i and 18i controllers, are the most popular controls used in industry to drive CNC industrial machines.
Expand your training program with FANUC™ 21i machine tool control and simulation software. You can implement a FANUC training component along with virtual CNCMotion or to control the actual CNC machine.
Whether you are operating the actual machine or the virtual machine simulator, you can teach industrial CNC controls in addition to the G & M codes offered on our machines. This gives users the added value of learning on the easy-to-use Intelitek control while adding exposure to the most popular CNC controller. As a result, your students' skills will advance by learning the FANUC 21i Control.
The FANUC 21i control and simulator are available for any of the following machines:
COURSE OUTLINE
DATA SHEET