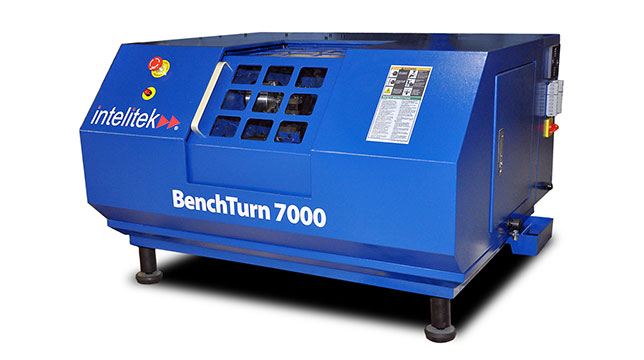 DESCRIPTION
COURSE OUTLINE
SPECIFICATIONS
DATA SHEET
DESCRIPTION
CNC Turning Technology introduces students to the fundamentals of CNC (Computer Numerical Control) turning by means of hands on activities with the BenchTurn 7×00.
Students learn the fundamentals of CNC working with quality equipment to accurately produce parts. Students observe and experience CNC's superiority over time-consuming, less accurate, manually controlled machine tools.
Activities challenge students to develop and edit programs, and make the parts on the machine. Students gain hands-on experience in proper set up, cutting tools selection, tool path simulation and turning center operation. Students design solutions for industrial CNC applications with an emphasis on real industrial concerns, such as optimized programming, accuracy and increased productivity.
The machine features an intuitive software interface and conforms to industrial EIA, ISO, Fanuc and G&M code standards.
CNC Turning Technology with the BenchTurn 7×00 is also available in Virtual format!
With a fully simulated machine, students learn the same skills as the Lab version via interactive online activities. Choose between Lab and Virtual courses based on your program objectives and budget, or implement both together for a truly scalable program!
Order #: CNC-7100-STRT
Components
E-Learning Content: CNC Turning Technology with the BenchTurn 7×00 – Lab
Bundle includes:
77-3148-0000 LearnMate Content (Requires LMS Add On)
00-5504-0110 BenchTurn 7×00

10-1105-7000

Tailstock Chuck MT2 Taper 0- 1/2″ (13mm)

10-1110-1000

7 Piece Turning Tool Set with Inserts 10 mm x 10 mm

10-1110-2000

7 Piece Insert Replacement Set

10-1106-6000

Rolling Center Tailstock MT2
COURSE OUTLINE
SPECIFICATIONS
DATA SHEET
All specifications subject to change without notice. All trademarks are property of their respective owners © Intelitek