In the last 250 years, society has experienced four Industrial Revolutions, which have entirely changed the face of industry as we know it. Here at Intelitek, we believe that the changes in industry should and must have a direct impact on the way we build the education system for today's students. If your goal is to create students who can become valuable members of the workforce and independent problem solvers, educational paradigms need to be rebuilt alongside each new revolution in society.
The Four Industrial Revolutions: An Overview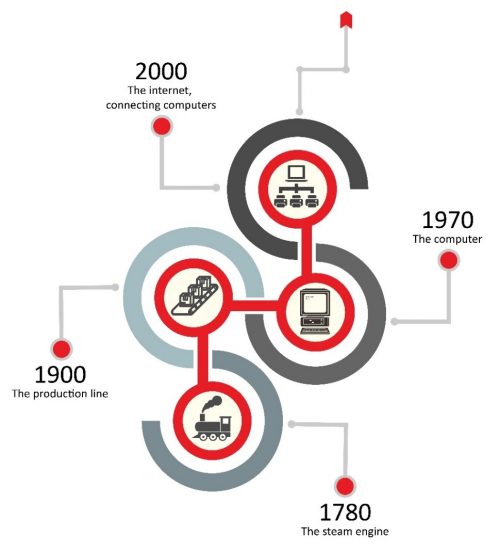 In 1780, the invention of the Steam Engine by James Watts changed the workforce forever. Suddenly, manual labor was less in demand, as machines were able to complete jobs faster and more accurately. New jobs working machinery were created, and families moved from the countryside to the city, from agricultural life to a life of industry.
These kinds of jobs were in demand until around 1900, when the production line became popular during the second industrial revolution. Soon, workers all had their own role to play in the production line, with expertise in one small area, instead of end-to-end knowledge about a product. The production line improved efficiency, and allowed for high quality products to be sold cheaply to the masses. Notably, Steel production heralded the creation of Skyscrapers, Railways, Electric motors, and more. Society had changed again.
Just 70 years later, the computer brought a third industrial revolution. The rigid systems of the production line were suddenly made flexible, and computing quickly spread across all industries, from Agriculture, to Banking, Management and Shipping.
In 2000, the ubiquitous nature of the Internet ushered in the fourth industrial revolution, the Connected Computer. Connectivity between systems has made remote working and collaboration a possibility, allowing businesses to become global enterprises, and retail to explode internationally with the help of production, shipping and finance online industries. Society has adapted to be more social, more knowledgeable, and many believe the world is a far smaller place than ever before.
The Effect on Education
If we look back at how education has changed since the first industrial revolution, we might better understand the challenges for students and teachers today.
In 1780, there was little to no expectation that children would have any education whatsoever. People learned a trade, typically with on the job apprentice training. Where it existed, education was a luxury for the rich. Later, when the second revolution occurred, industry needed skilled workers, who needed to be literate in order to be valuable in the workforce. Suddenly, an education was needed. And this education system, founded on the needs of the second industrial revolution is in many ways still in place today.
Based on earlier life learning models, schools taught knowledge. Students came in with no knowledge, the teacher fed them information in specific subjects and at the end, the student was tested to evaluate if they remembered what they were taught. This fostered a rigid framework of study disciplines, education standards and eventually standardized testing. A production line!
The introduction of the computer did not change the underlying ethos behind our education system. Instead, education professionals simply took advantage of the technology and replaced teachers with computers, enabling teaching, learning and assessment to be handled by machine. While long distance learning and a vast amount of information is now accessible thanks to the Internet revolution, the structure of our education system has still been left unchallenged. Learning outcomes are still being tested by the criteria set out in the second industrial revolution. We are still treating educators and students like they are part of a production line.
Education 4.0
In order for this to change, we must revisit the educational paradigms, and focus on the areas that need rethinking. In today's new world of fast changing technology and information overload, students need to be trained and not taught. Information needs to be made accessible and students need to learn how to find it rather than the teacher offering it to them in a rigid structure.
We now understand that students are not alike, do not have the same starting point, can learn and absorb different areas of focus differently and need to be guided to develop their skills rather than taught a set of predefined data points. Education 4.0 needs to align with Industry 4.0 and prepare students for the next industrial revolution which will happen in their lifetime.
Aligning Education 4.0 with Industry 4.0
It's time to bring education into the 21st Century. Flexible, tailor-made curricula, taught by teachers who become mentors to their students, and treat them as individuals is the least that today's schools deserve. Giving the workforce of tomorrow the tools to become active lifelong learners can create a diverse and pluralistic society where every person understands and plays to their strengths, building a fair and self-sustaining model for education rather than knowledge.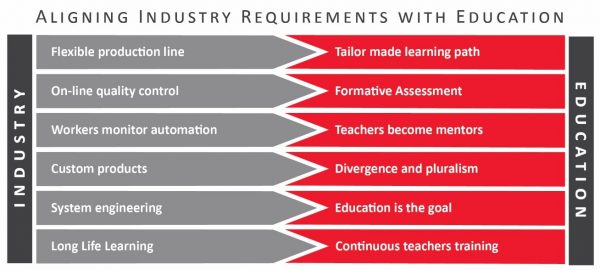 Read more about Industry 4.0 and Education 4.0 by downloading this white paper from Intelitek.