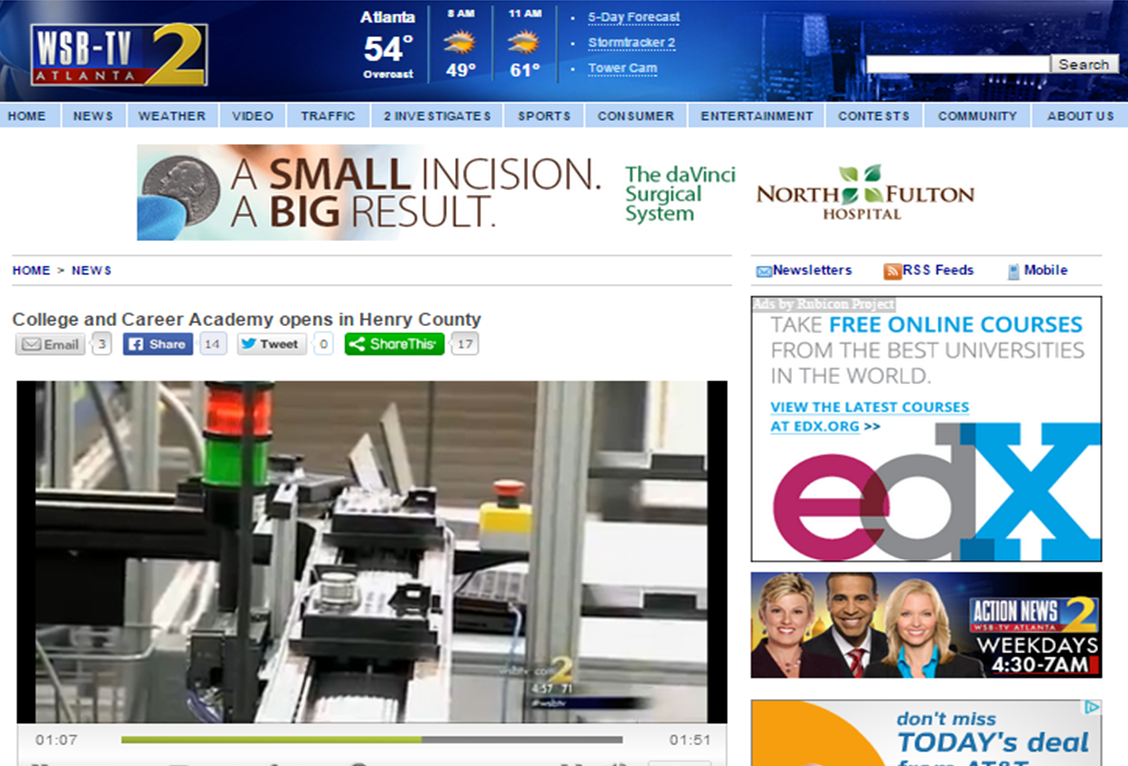 Dignitaries and media were out in force this week for the opening of Henry County's brand new College and Career Academy, a new 56,000 square ft. state-of-the-art facility offering 10 new programs. Students are given the opportunity to take everything they learn in the classroom and put it into practice in a technology-rich environment, allowing them to understand what they are learning and why they are learning it.
The Academy offers everything from high tech manufacturing – which features Intelitek's industry-leading advanced manufacturing learning equipment – to healthcare, a full-size industrial kitchen, graphic design, and automotive shop. With all these cool gadgets, students get motivated to learn as they know what they are learning is relevant to the modern world and their future. Freshmen starting in the program are taking the opportunity to get a high school diploma and a 2-year college degree at the same time.
Lt. Gov. Casey Cagle, who was there in person for the grand opening, said that this type of facility "offered students the kind of job they want", and with results such as 98% graduation rates and 100% placement rates, they were planning to roll the programs out to as many students as possible. He also noted that facilities like the College and Career Academy is a powerful way to get industry to come into the area, with a motivated and highly skilled workforce ready to fill positions.
Featured on local Atlanta news, the new College and Career Academy is a boon for students, parents, teachers and local industry. Students get the marketable skills they need to take them into great jobs in the area, and we're proud that Intelitek has been able to help facilitate the building of this great academy.