Multi-Year High School Manufacturing Curriculum
Intelitek, together with NAF, offers schools a comprehensive two to four year advanced manufacturing program that integrates work projects, competitions, and apprenticeships.
NAF Academies that offer the Advanced Manufacturing program will address the acute need for workers to fill 21st century jobs – workers who are qualified, tech literate, and have manufacturing and production knowledge. The program for high school students provides not only the technical skills, but also a full appreciation of the manufacturing ecosystem, so they can pursue opportunities in this growing sector.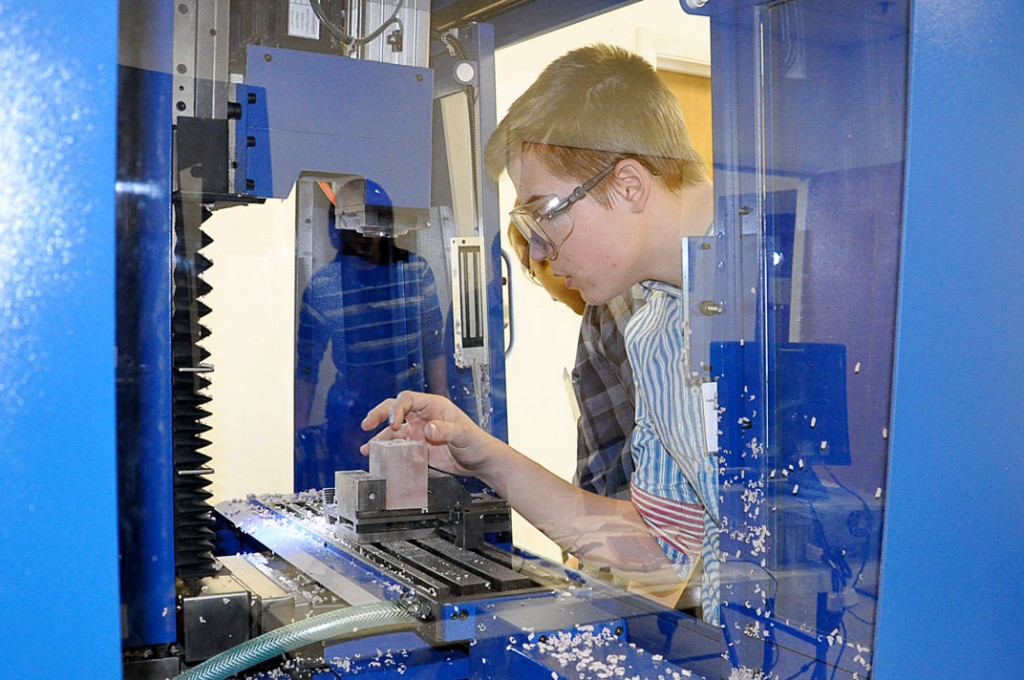 Launched in 2017, through a collaboration between NAF, Cimarron Memorial High School in Las Vegas, Nevada, and Intelitek, the program provides students across the nation with access to a pathway that will create economic opportunity and enable more students of all backgrounds to succeed in STEM careers.
The curricula, developed by Intelitek, are aligned to the Nevada State Assessment for Manufacturing Technologies. Students also takes advantage of the projects created by Intelitek for the SkillsUSA Advanced Manufacturing and Robotics & Automation competitions, and can compete at the State or National level.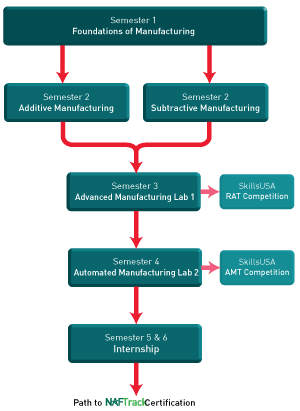 Fundamentals of Manufacturing – Introductions to production and manufacturing topics, combined with a series of career enabling soft skills like math for technicians, job search, business etiquette and much more
Additive and/or Subtractive Manufacturing – Students learn the fundamental skills of design and manufacturing machines
Advanced Manufacturing – Electrical education, fundamentals of robotics and basic automation. Students combine these by competing in SkillsUSA Robotics and Automation Technology competition
Automated Manufacturing – Advanced automation and integration to build and operate Flexible Manufacturing Systems (FMS) and/or Computer Integrated Manufacturing (CIM) Labs. Student use this knowledge to compete in the SkillUSA Advanced Manufacturing Technology (AMT) Competition
Apprenticeship – together with local industry, students have the opportunity to work/learn as they put their knowledge into practice.
Delivering a robust and relevant STEM education in a format that engages digitally-native students
BUILT TO DEVELOP CAREER READINESS
Advanced Manufacturing is a job readiness focused program – the series of curricula are designed not only to teach STEM skills, but also to address the soft skills required to succeed that are critical for young candidates in new jobs.
STEM skills and knowledge are the fundamental element of the Advanced Manufacturing Program.
In addition to science, technology, engineering, and mathematics, students gain a broad understanding of the business of manufacturing and learn about teamwork,
communications, quality control, documentation, leadership, and ethics.
FOCUSED ON INDUSTRY NEEDS
The focus of the content is driven by input from industry – business partners collaborating with educators to frame the primary skills they expect out of new employees that make them employable.