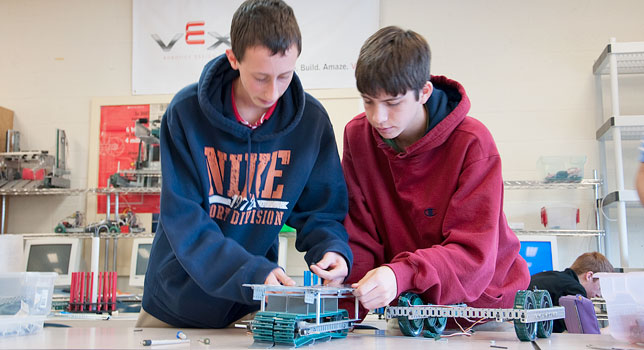 OVERVIEW
SPECIFICATION
COURSE OUTLINE
SOFTWARE
OVERVIEW
Robotics Engineering Curriculum (REC)
Overview
Everything you need to begin a successful program aligned to national STEM standards – just add students!
REC delivers comprehensive instruction aligned to national STEM standards via hands-on activities and compelling online curriculum, all centered on three core features:
REC was the most sustained fun, entertainment and education in my 42 years of teaching! Kids came to class early and on their lunches just to get started!
DOWNLOAD DATASHEET DOWNLOAD BROCHURE
Robotics Engineering Curriculum (REC) provides a comprehensive study of engineering concepts including:
Physics
Programming
Mechanical systems
Electrical and electronics systems
Relevant activities and capstone projects in each semester
These core concepts are delivered with a robotics emphasis through relevant activities and projects using the VEX V5 Robotics hardware and VEX® Coding Studio Robotic Programming Software. By using robotics as a vehicle to convey the principles of engineering, REC generates excitement and enthusiasm for the engineering field!
REC™ forms the Robotics PathwayExtension™ for ITEEA's Engineering byDesign™ Program. This standards-based program delivers STEM education for K-12 students. For those choosing a Robotics component, the REC robotics PathwayExtension™ forms the second and third years (grades 10 and 11) of high-school level instruction.
SPECIFICATION
COURSE OUTLINE
SOFTWARE
All specifications subject to change without notice. All trademarks are property of their respective owners © Intelitek