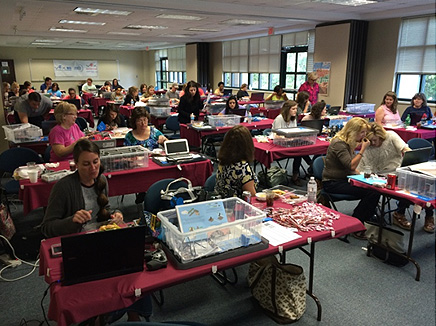 Over 65 teachers from 16 elementary schools spent the weekend of Sept 12th in Raymond, Mississippi learning how to program a clawbot using Inteliteks EasyC v5 programming software.  The teachers assembled a clawbot from VEX IQ build instructions and sat with a look of apprehension and fear as Product Manager, Trevor Pope asked how many of the teachers have earned computer science degrees, or are experts with C programming.
As expected, no hands were raised and Intelitek started the short process of instructing teachers how to program their VEX IQ robots with EasyC v5 programming software.  Teachers were instructed on basic autonomous programming skills then programmed their robot to navigate mazes with a variety of difficulty levels.  Teachers were showed how to program the gamepad joysticks and buttons and each had the opportunity to compete on the Bank Shot playing field.  Inteliteks EasyC software provided teachers with a non-programming background the ability to understand the basic concepts of programming.  Each teacher in attendance was provided a 1 year license to EasyC v5 allowing them to share their newfound expertise to 3rd, 4th and 5th grade elementary school students.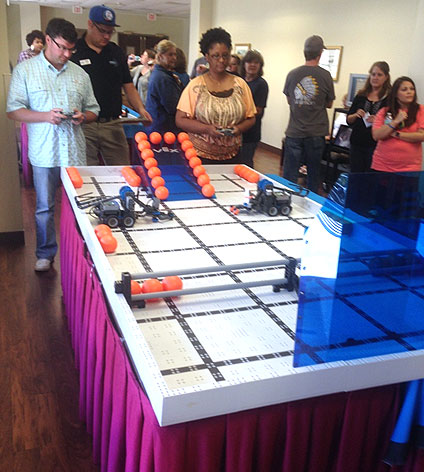 A vision of how these exciting resources could be implemented in an "Exploring Robotics" STEM Curriculum was well received by the  dedicated and enthusiastic group of teachers from the following schools; Baxterville, Camden Elementary, East Flora, Highland Elementary, Longleaf Elementary, Madison Career & Technical Center, Madison Upper Elementary, Madison Crossing, Newton County, Oak Grove Lower Elementary, Old Towne Middle School, Purvis Upper Elementary, Richton Elementary, Sumrall Elementary, Union Elementary and Vancleave Upper Elementary.